So…
Why do you fish? Is it the reward from outsmarting a fish in a given scenario, the places it puts you in or something else? Adding to this, what is it that makes a trip memorable?
Warning, brain muddled tangent follows…
If I think back to last season, I remember my outings where I traveled by bike, or fished new waters. In fact, I think I get most of my thrills from exploring new water, with no preconceptions as to how it will fish. Ideally these waters for me are mountainous where I also get an opportunity to ride bikes or run or stretch it out to a couple of days with an overnight…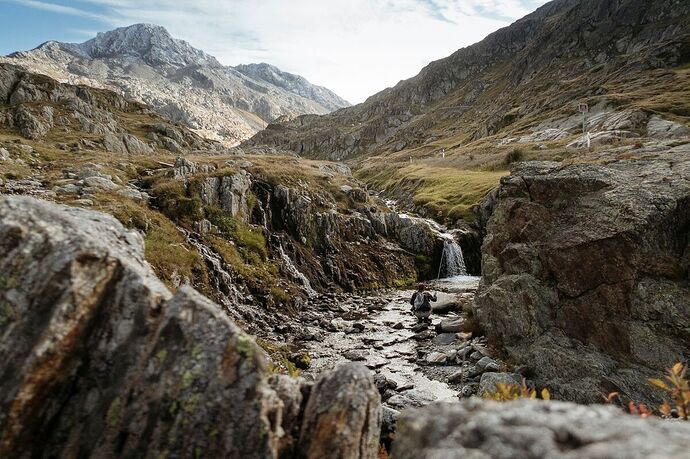 The day above certainly lingers on my mind…
I got to a point at the end of the season where I strayed from tenkara techniques to more euro-nymphing methods. Suddenly catching a few fish wasn't enough and a session with say, less than 20 fish felt well… average. All those sessions have blurred into one. After a bit of a hiatus with a long cycle tour trip I'm now back to (on the home waters at least) enjoying catching a handful of fish, each one with its own thrill again, regardless of size. I progressed past the lure of "productive" stretches on the home rivers and on the whole am enjoying it more!
Unfortunately exploring more water here in the UK usually has its fair associated cost, it is a strange to think purchasing a season license in Colorado can be less than a day's ticket on some of the "Accessible" day ticket rivers in the Peak District near me. Nonetheless my goal for this season is to visit more rivers / waters. The less driving the better, driving a 6 hour round trip to fish a river seems a bit counter-intuitive when I'm going that distance to appreciate nature haha.
Getting back to the original point though, for whatever reason you fish… Where does purchasing new rods / gear fit into that? If you fish because you primarily enjoy catching fish is money spent as it in theory improves chances to catch more fish? Is it new equipment for the sake of refining your equipment so the set up is best suited to your methods / practice?
One of the main things I enjoy about Tenkara is that it seems to encourages knowledge and technique more-so than say western circles of fly fishing.