Hello! It's hard for a working man with three kids and no money to get away for a fishing trip, so I gotta get it in where I can fit it in.
In my particular geographical location of extremely Southern California, there's not much in the way of moving water. There's a series of sand mining pits that is called a "river" on the map, but it's heavily guarded by tules and "home-free" encampments. Any tributaries are seasonal at best, so I'm essentially relegated to municipal impoundments. These reservoirs are home to world-class Florida strain largemouth, but the sport fishing pressure is so heavy that it's very hard to find consistently productive presentations.
So now I just fly fish for sunfish.

I took a "vacation" the other day, which was two hours of paid time off at the end of my shift. My commute is 40km/25mi round trip, which I try and do on my e-bike project whenever I can.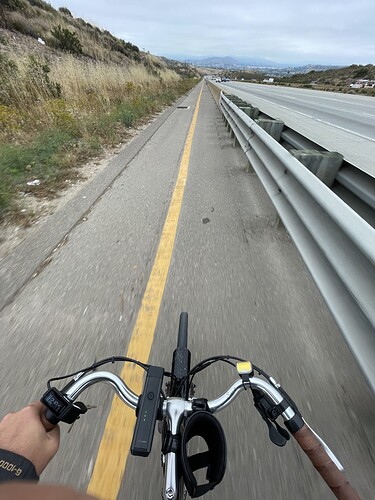 I ride across a bridge that spans a series of large ponds/small lakes managed by the local water utility, so for my vacation I just turned in to the lakes instead of going home. When I would fish for bass, it felt like a poor excuse for a fishing hole. The lakes aren't very deep, the bass are very smart, and there's not much topography under the water.
But for bluegill? It's like Cabo San Lucas. There's nicely manicured landscaping, snack bar, pizza parlor, bathrooms with plumbing, even playgrounds for the kids and RV camping. Not that I have an RV, but still…

The sunfish in here are voracious predators, and they school up really thick. In the course of an afternoon, I get incredible practice. I might spend an hour sight fishing. Trying to land a fly right in front of a specific fish to catch just that one out of a school. I can cruise around looking for clues to where the fish are schooling (tules, rocks, shade, etc.) and then I can practice "watching the take" which is surprisingly subtle at times.
Anyways I just wanted to share. This might seem pretty pedestrian to some, but it's really fulfilling to me to snap out of the system, just for a bit.
Also the bluegill really love the teeny-weeny wooly bugger.