This is not a tenkara trip but a binge surfcasting fishing trip with an interesting incident.
I often worry more being deep in the wilderness fishing for trout than I
do fishing the surf.

I had an incident this past week while scouting a remote stretch of
beach solo. One entry and exit point about a mile away.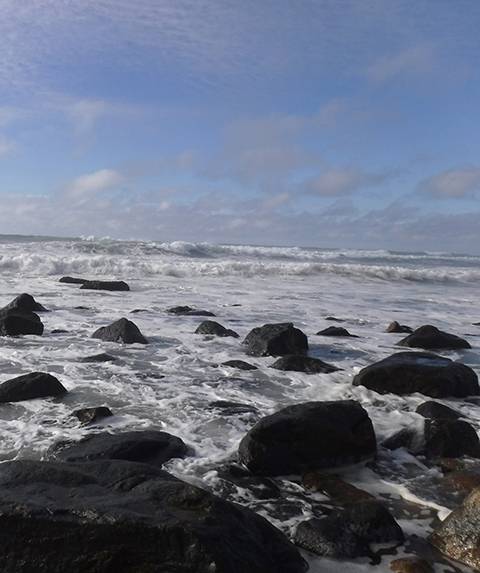 Nice water…daylight scouting and fishing. It was not the waves the
got me it was my lack of focus. I used the rocks as stepping stones
to get out to the rock I wanted to fish. Small hops…rock to rock. I
had been fishing the area all week doing the same. The only difference
was that I was fatigued from a week of fishing.
I fished a bit…and turned around to do my dance back to
shore…and that is when one of my studded boots skated across the
black algae covered rocks and sent me down like a sack of cement.
Probably a 1.5 foot drop into a mess of rocks.
I sort of had my wind knocked out of me and as I took inventory of
myself and my equipment. I noticed a split in the shin of my left leg of
my wetsuit…from which a thick red pulpy stream of blood was
flowing. KRAP!!! I peeled open the split in the wetsuit to find that the
1.5 inch gash continued about a centimeter deep or more into my leg
which was also agape in the same way the wetsuit was.
It looked bad and I really had no idea what to do. It did not hurt…and
for a split second I thought…"screw it I will fish the rest of the
morning anyway.", but realized that was just denial how serious this
might be.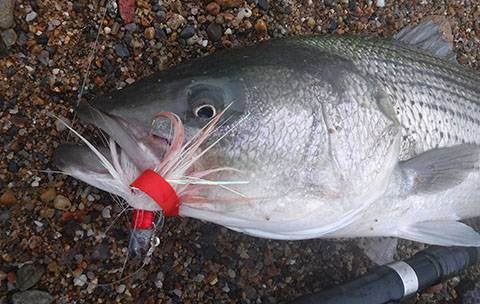 After my angel of reason slapped me across the face, I decided I had
to abort the fishing mission to get this thing taken care of. I intentionally
took a moment to come up with a plan and then went to execute it.
I was afraid to take off my boots and wetsuit to see how bad the
damage was. I was really afraid that if it was really bad I would make
some bad decisions or my leg would swell up and I would not get
my boot back on or worse pass out.
I was not sure what to expect. Is this shock or adrenaline. How long
am I gonna be ok…mentally and physically. What is the window?
I needed something to bind and apply pressure to this wound. The
one mile walk with a flowing wound might pump out too much blood.
I thought about how the beach often had ropes and other debris that
I could use to pinch the wound and apply pressure. Of course when
you need trash you cant find it. I did not find any until the second
cove, where I came across the strap of a 5 gallon bucket. The
connectors of the strap served well to use leader material to tie it
down and tighten it. It held up like champ over the mile of cobble and
rock.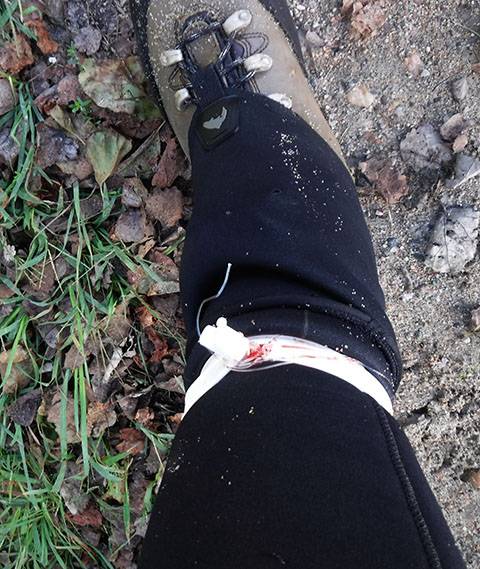 Luckily when I got to the lot Pat was just leaving and I asked him if he
could help me out with my injury. He luckily had a good first aid kit.
The below pic was after we rinsed the blood off my leg with water, as
you can see immediately a good stream of blood continued to flow.
On the drive to the medical center, I must admit that I was starting to
mentally unravel. There is something about a physical trauma that
triggers some mental craziness. Nothing extreme but a touch light
headed and could not think clearly. Brain scramble. In the end it was not too
bad…one tetanus shot and 4 stitches. Hopefully everything heals up
and I am back in action soon.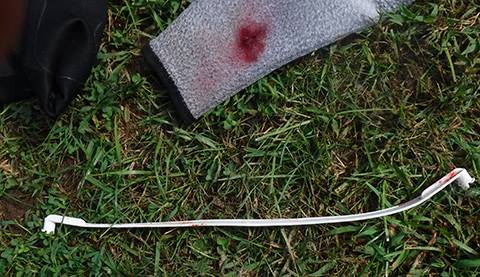 The incident really has me thinking about carrying a roll of duct tape
or electrical tape with me from now on in the field. What would have
happened if it were more serious??? Like if I hit my head or had bones
sticking out or had broken something critical?
I normally do not carry my phone with me as often service is an issue
but I do own a waterproof vhf from the days I kayak fished.
Food for thought.