Hi! I'm excited to create my first topic, and share what I do when I'm setting up a level line. I might be the only person who does it this way, and that's okay too
I started out with one of those "kit" setups, and it came with a tapered line and a connection loop; the girth hitch seemed really intuitive to me and it was quick and easy. Eventually I wanted to have more lines rigged to change presentations without having to chop up a rig every time, so I gravitated towards level lines. Seemed cost-effective and very easy to do custom lengths. I had trouble with the Lilian connection, so I started putting braided loops on my level lines and I haven't gone back.
I tie a bight of braid with the "crazy" Alberto knot, then close the bight into a loop with a surgeons knot. I have to loop the fluoro around the braid; if I loop the braid around the fluoro like a normal person, it tends to slip.
I also use the Alberto for my tippet connection. I loop the tippet around the fluoro in this case, and milk the tag end of the fluoro back through the wraps before I come tight all the way. This way I only lose 8-10mm of level line each time I need to replace the tippet. I've never had this knot fail, but to be honest I usually end up with a wind knot somewhere in my tippet after several hours and I just change it out before I break it.
Here's a pic showing how much tag I end up with, generally. (I should add that these tag ends are clipped off reeeal close to the knot; this is traditionally a braid to leader knot built to cast through rod guides on conventional bait casting gear)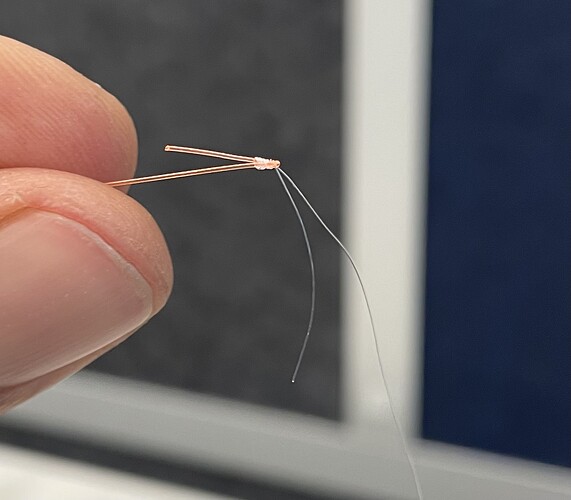 I'm not a big internet researcher; I tend to just make stuff up as I go along, using things I already know. So it goes with my "crazy Alberto everything!" Mantra.
Thanks!