Yesterday evening I discovered a YouTube video titled - Fujioka Kebari. It was uploaded by Tenkara Stuff, which also happens to be a commercial site in the UK. However, it seems to be more a website from a Tenkara fan, than a site whose primary purpose is to sell tenkara items. I have yet to discover the owners name. He has an interesting Tenkara story on his website. Seems he was familiar with Tenkara before Tenkara USA started. Worth reading, I will post the links below.
Anyway, I found his video interesting because this kebari looks a lot like the kebari I posted about on the Tenkara-Fisher forum last summer. Called the ゼンマイ孔雀止め毛鉤 or ゼンマイ胴クジャク止め 毛鉤 Zenmai body/torso peacock stop kebari, (maybe not an correct English translation). That Takashi Yoshida-san wrote about in the 2013 Spring Issue of Headwater Keiryu magazine. More about that later.
I like his kebari tying videos, I think there are six of them. He is a skilled tier. I like the way he preps the Zenmai in this video. It's an ornery material to manage, at least for me thus far.
https://www.youtube.com/watch?v=XR1t9KyFfpg
I tied this version from the Keiryu magazine article.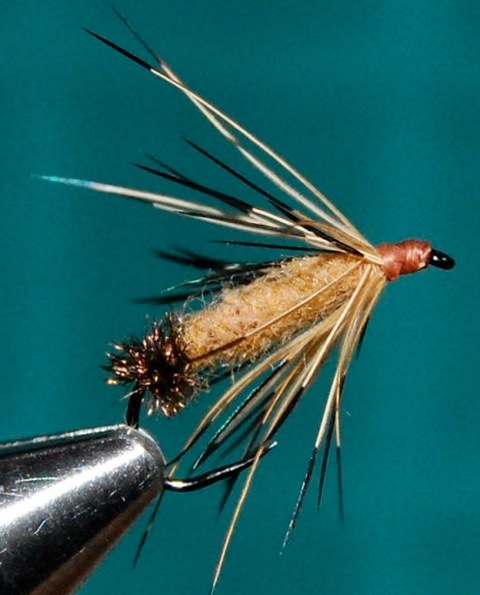 As I recall I fished it a few times and it was fish approved.
The Takashi Yoshida-san article in the 2013 Spring Issue of Headwater Keiryu magazine. 渓流2013年・春号 begins on page 104.
Part of the title is 佐藤垢石の毛鉤を巻く , Winding the Kebari of Koseki Sato.
佐藤垢石氏 Mr. Koseki Sato was a well know fishing essayist, and author of books. I think Mr. Koseki Sato passed away in 1956 at the age of 68 y.o., so they are old school kebari patterns. Takashi Yoshida's article in the magazine is about winding 10 different kebari found in Koseki Sato's book, 山女魚釣 , Yamame Fishing. This book was written I think in the late 1930s or early 1940s.
This picture, from the Yoshidakebari blog, shows a scan of the ten kebari in book. I think the Zenmai body peacock stop (end) kebari is the #8 kebari. (maybe I will be able to find an online picture from the magazine article showing this kebari and post it later.)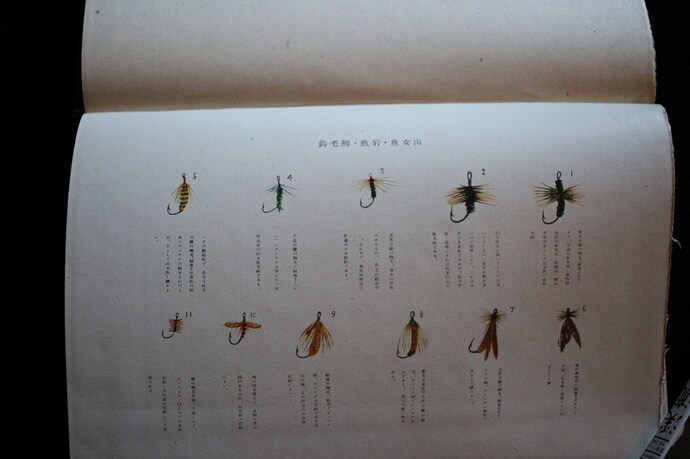 The picture is from this Dec. 2014 blog post.
http://yoshidakebari.jugem.jp/?eid=1614
In this Jan. 2013 blog post he writes about discovering the same two books in Tokyo.
http://yoshidakebari.jugem.jp/?eid=1042
Anyway, I think you will find the Tenkara story of the guy at Tenkara Stuff interesting. He writes that he was introduced to Tenkara when he was a boy by a Chinese Chef who had lived most of his life in Japan before moving to, I guess, Lincolnshire.
http://tenkarastuff.com/shop/tenkara-fishing/tenkara-and-me/