So I have not been fishing much this winter. For a moment I thought I was tenkara-ed out. Last Summer I fished a week in Colorado that tweaked my brain and had me reflecting on the poor water that I had in my backyard. For all comparisons my home waters are a couple beats from what would come from a trout park and a cesspool mating. Everything is relative…Colorado just cast that shadow.
Time heals all wounds. I have been skiing most of this winter which is traditionally my tenkara time. One of my surfasting buddies pinged me and noted that the trout management areas were recently stocked. So I showed up to the river…7 am with air temp 23 degrees fahrenheit… and immediately started hooking up once I went to a prince nymph bead. It was fun. Over twenty fish from one area. Browns and rainbows form 12 -18".
Funny note this fish. I had it on and wondered why it took so long to land. There were a few larger fish in deep spawning colors that this fish circled by. Those fish made this one look tiny.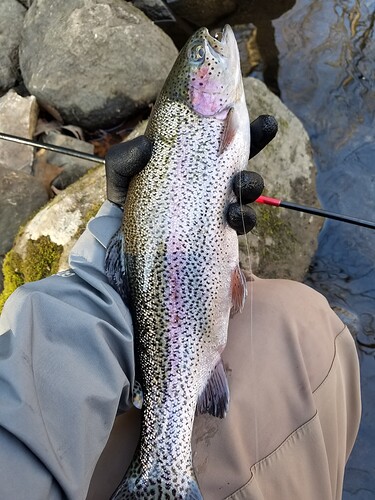 By the mid day the air temps went from 23 to 55…and there were several beautiful hatches. I was able to switch to an unweighted kebari and convert several more fish.
This trip sort of rejuvenated me. It was fun.
So I got out again to a different river but was mostly blown out from wind and rain. High water levels and the wind pushed a lot of dead leaves into the water. I fished for a couple hours and thought it was going be a scratch…but then was able to convert a couple of these wild brookies on a slow down stream pulse.