I will vouch for both the victilorinox paring knife and Gerber LST. The little Gerber is a workhorse and the paring knife is incredibly sharp, so good at cleaning fish!
Vladimir,
I am sorry for not being able to speak and write in Russian. Please forgive me for my stupidity and laziness.
This is a beautiful knife. It must be custom made with the scrimshaw insert, Wow!!! The leather sheath looks heavy duty with a double stitch for safety. Did you make this or make a custom order from a bladesmith? The blade looks like a Scandi grind which could be very useful for many activities.
Майк,не переживайте за русский язык,мой телефон всё переводит сам.
Теперь о ноже: он сделан на заказ,русским мастером из города Тверь. Лезвие ламинированное,внутри порошковая сталь в обкладке из нержавеющей стали. Рукоять набран из латуни,бивень моржа и кап каштана. Рисунок на рукояти- это подарок от мастера. Ножны сделаны из кожи и прошиты японскими нитками из крапивы.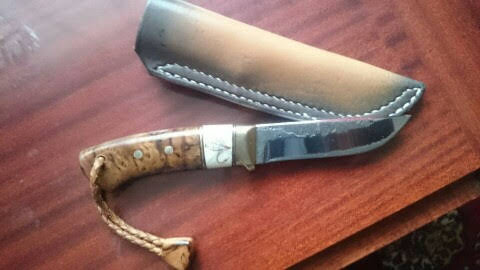 I generally believe that a normal backpacking trip can be handled with a tiny Victorinox Classic.
I'll often take a Mora Light My Fire fixed blade knife with a built-in fire steel…it's light enough not to be a burden in my pack and is good for gutting trout.
In my fishing kit, I have a small leatherman squirt…the pliers are useful on occasion since I don't carry hemostats. They also have a wire cutter strong enough to clip off hooks if absolutely necessary.
I don't really have any super snazzy knifes. I normally have a victorinox swiss army knife in my pocket. The tinker if I remember correctly. If I am using my larger vest I have a morakniv bushcraft black in the back.
This is what i have been using for over a decade…almost two. Gerber Harsey Air Ranger. Its very light. The handle is unique…aluminum and open…pretty good for around the water as moisture can find its way out and the blade can dry. I have even exposed it to the saltwater environment and it has held up pretty well considering…the salt tends to eat everything in its path.
When I bought mine…they were $60 and worth it. Now you can find them as low as $20. Which I have no idea how they can do that for such quality. I have bought the $20 version and see no difference in quality.
Gerber Harsey Air Ranger.
The Gerber Air Ranger is a Bill Harsey designed folder that is incredibly comfortable in hand, while also being very attractive thanks to the CNC machined aluminum handle. The blade is bead blast finished with partial serrations and thumb studs for opening. When open the blade is locked by a steel liner tab, which is simply pushed to unlock. With the pocket clip, the Air Ranger is an excellent candidate for your everyday carry needs.
https://www.gerbergear.com/Knives/Folding/Air-Ranger_45860
https://www.youtube.com/watch?v=hrqDRhndLi0
https://www.amazon.com/Gerber-Ranger-Knife-Serrated-45860/dp/B000670CRS
I have many fine knives both locking blade folders and fixed blade types and use all of them from time to time. Rotating through a few favorite Spyderco, Benchmade or SOG models just for variety. I do not have a special favorite knife for fishing or hiking.
But the Goldilocks knife that I carry 80% of the time is a Spyderco Stretch FRN with plain edge ZDP-189 steel blade. It will stay sharp for a long time (but is tough to sharpen. Don't get the zdp-189 blade unless your are skilled at sharpening very hard steel. Instead get the VG-10 blade, that is still very hard steel, but a little bit easier/faster to sharpen). The FRN model is not as strong as the G-10 handle model, but it is lighter & lower in cost.
I find the Stretch is just the right size between the larger Endura and the smaller Delica models. And with a blade length just under 3.5 inches it is legal carry most places. It is not a particularly handsome knife in appearance, but a beauty in that it does many things so well. At least for what I mostly use a knife for. [ no worries, you can always find them at a lot lower price than on the spyderco website.]
https://www.spyderco.com/catalog/details/C90GRE2/1030
https://www.spyderco.com/catalog/details/C90BK2/1033
https://www.spyderco.com/catalog/details/C10GRE/Endura-4-Lightweight-British-Racing-Green-ZDP-189/284
https://www.spyderco.com/catalog/details/C11GRE/Delica-4-Lightweight-British-Racing-Green-ZDP-189/285
Currently a favorite fixed blade, though not often carried, is the Ambush Tundra. It is quite handy for splitting firewood due to its blade thickness. Mine is similar to this one but with sculpted grip and red liners.
https://www.dlttrading.com/ambush-tundra-stonewashed-black-g-10-yellow-liners-115
[ The little Gerber LST is a fine knife too. I probably carried one for ten years 25 or so years ago. I still have two of them. One with a melted handle from when a soldering iron tipped over on it at work, and its replacement.]
After the LST I lugged around a Victorinox Champ for several years, but now one of them is usually found in the door pocket of my car.
https://www.swissknifeshop.com/shop/swiss-army/victorinox/swiss-army-knives/swisschamps/swiss-army-swisschamp
Translation:
Mike, do not worry about the Russian language, my phone does it all by itself.
Now about the knife: it is made to order, a Russian craftsman from the city of Tver. The blade is laminated, inside is powder steel in a stainless steel plate. The handle is made of brass, a walrus tusk and a chestnut cap. Drawing on the handle is a gift from the master. Sheaths are made of leather and stitched with Japanese nettle thread.
Translation:
Here is my knife.
thanks for the translation.
Depends on where I am heading.
For many years I climbed, backpacked and skied with a Swiss Army Tinker. More recently I hike and backpack with a Swiss Army Climber when I'll be above 4500 ft.
I keep a Leatherman Wave in a pouch (along with a rubber capped trekking pole-wading staff in a pouch) on my wading belt.
There are campfire restrictions for most of the areas where I like to backpack (above 4500 feet) but when I'm at lower elevations I slip a BRISA Enzo Trapper (N690Co Scandi grind) in a Kydex sheath with a Tek Lok belt clip on a backpack shoulder strap if I know I'm going to have a fire. It's not a big "bushcraft" knife but easily cuts feathersticks and will baton 2" branches.
If I am car camping and want a wood chopper/splitter or sometimes fishing where I know I am going to do a lot of bushwhacking in the lower elevation PNW rainforests, I'll put a Condor Pack Golok into the side pocket of my pack.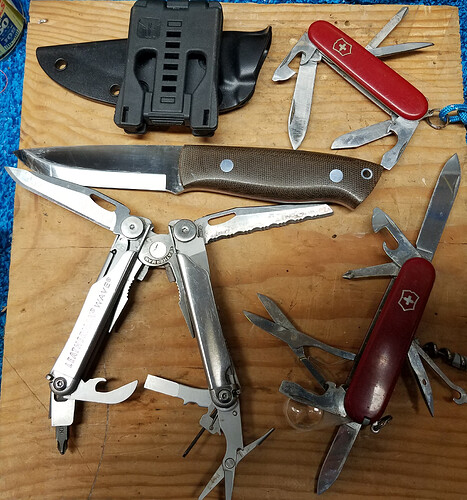 Since late last fall, much to my surprise, the Benchmade Bugout knife has on many days replaced my Spyderco Stretch as preferred edc knife. Thin, light, and I like the blue color, easy to see if dropped, though many others disliked the colors. Many third party replacement scales are now available.
I carry the bugout and love it. The size and light weight are perfect for edc also. I wouldn't mind packing a larger knife, but the bugout is just so convenient to always have on me. I picked up the green color with black blade.
Last Nov. I purchased a second Bugout knife to give to my son for his birthday in March. The lock side seemed a little sticky at the store. They assured me it would soon loosen up, and from past experience I thought they were correct.
Having some time to play around with the knife I thought I would play around with it until the slide loosened up. It never did, it only got worse. It wasn't reliable to lock the blade open, the slide would sometimes stick in the mid position so tightly I had to push it with a tool to get it unstuck. Never happened with any previous BM knife I had purchased.
I finally contacted Benchmade, sent them the knife and they returned it working flawlessly quicker than they estimated. [however, I think many companies now days always give you a later date than what is their actual delivery time, just so people cannot give them a review saying the delivery was late. Amazon estimated delivery date is always much later than I have ever received delivery]
The BM Osborne 940-1 is also a very nice knife, but > 2x the price of the Bugout 535.
However, I am more of a Spyderco guy than BM guy. The Spyderco Delica 4 is most often seen as the closest competitor to the Bugout. But that depends on what steel is used, it is available in several different steels, and some of the will add about $100 to the price. The Delica is just slightly heavier than the Bugout, at 2.44 oz. Available in several scale colors.
Lionsteel M1
I purchased a Lionsteel M 1 with Olive wood handle scales in Tenn. last month. Generally when I think of a fixed blade sheath knife I think more about larger blades, but having read about the handiness of the Lionsteel M1 fixed blade knife in emails before going to Tenn. I decided to check them out. I thought I might like it and have found I like it more than I thought I would. I have found it quite useful doing things around the house & yard this spring.
https://www.lionsteel.it/n/en/product/1805_var1/m1_olivewood-m1_ul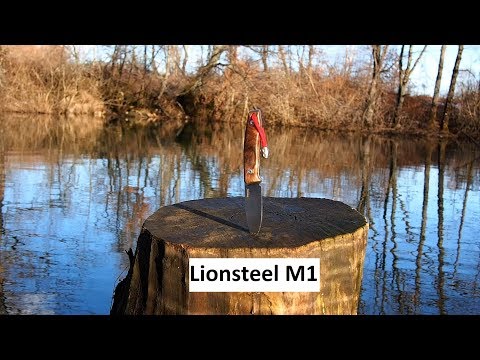 Нож с фиксированным клинком LionSteel M1 Most of us can enjoy the extra views of the knife from different angles. Vladimir may benefit from the narration too. [probably a sales pitch]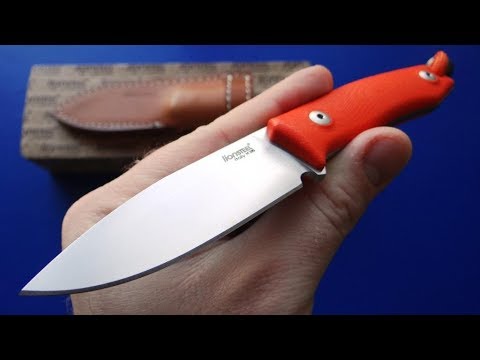 btw, I have one of the ESSE Izula knives shown in the above video. I like the LS M1 a lot more.
Lionsteel and Esee knives are great. I have several Esee knives and several Lionsteel knives as well.
The Esee coverage is awesome. If you ever have a knife become damage they will fix or replace the knife for free. Lionsteel also makes great folding knives. DPX is a subsidiary company of Lionsteel that also makes wonderful fix blade knives and folders. If you get a chance, take a look at DPX.
David, you made a excellent knife selection. I don't own the M1 or M3 but I have been looking at these knives for a while. They are well made and the leather sheaths are great. Also take a look at Bark River Knives, they also make great outdoor knives in A2 steel or CPM 3V.
My favorite backpacking knife is a # 6 Opinel with an olive wood handle.