Thank you Mike. All being well I will be back 'dangling a line' in the New Year.
David
@davidsr cool…yeah like those jigs too but lighter…so not to overload the rod.
I always find fishing deep a challenge with tenkara. Sink speed and water movement always an issue.
Very un-tenkara but something to try if you have a rod to handle the weight. Like a dropshot rig. A single splitshot at the very end of the tippet. You could knot the end or leave it alone…if left alone you ptobably could free a snag by just pulling the line through the clamp of the split. Above the split…about a foot…the streamer. Palomar or surgeons loop.
The dropshottting techique is interesting as you place the offerin where the fish are and work in place. Same concept as a sabiki…flies over weight… On a side note i have caught trout on a sabiki using spinning gear.
The unweighed flies have a more natural presentation…the weight puts it in the strike zone.
@Gressak
Thanks for your comments. I agree that weight is an important factor. I am always very careful with that. In my lurefishing days using a spin rod I often drop shot. It is a deadly method for perch.
The canal I fish has depths of upto 16' and the depth from the side can be 5 - 10' extending about 10-12' from the side before a steep drop-off. Unless I am fishing in the top layers of water unweighted I literally swing the rod out so I in such situations the weight factor is not too critical. I never add weight to the line. Any weight is always incorporated into the fly. The Morikawa weighted jig hooks flies shown above, are as heavy as I go. They have a approximate weight of 0.3gms and would only be 'swung out' not cast.
Many of the flies I tie have Jamieson's Shetland spindrift wool bodies which absorb water and creates a natural drop for the fly. There is very little flow to the canal.
View of canal I fish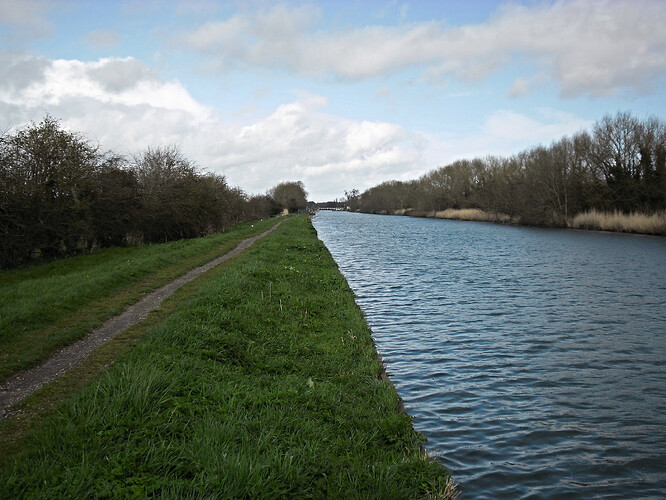 David
Those jigs bring back lots of memories for me; reminding me of my childhood and fishing with my grandfather. We used jigs similar to that to fish for coarse fish: mostly perch, pike (with baitfish hooked on the jig), and panfish.
I really like your "perch special" too. There is a perch pond not too far from my work, I may have to try out something similar. Thanks for sharing.
Glad you like it. Here is another pattern. It is one that I have adapted slightly from an original by @PanfishOnTheFly I saw in an article in Winter 2017/8 Tenkara Angler he wrote. I have added glass seed beads to make it, to me, more 'perchy'!
I have not tried it yet but have high hopes for it.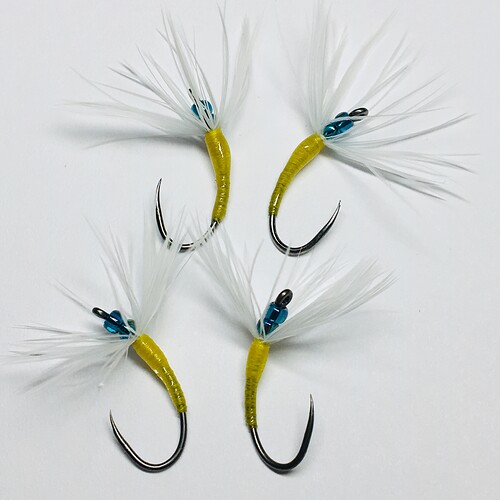 [Note - I think the bead head would be better with the silver lined coloured Toho beads I normally use but I don't have any that colour - yet]
David, I wish I could show you my kebari but my fly tying is mediocre at best. Your kebari are awesome!!! I really enjoy seeing your flies.
@Kookagee
Mike
Thank you for your kind comments. If you really want to see some good tyings have a look on Instagram. There are many 'works of art' displayed there by tyers far superior to me.
Practice makes perfect. Keep at it! Remember you are tying to catch fish they don't mind if ithe fly (kebari) doesn't always look perfect. Think of the number of times you have had one of those days when a favourite fly gets chewed up but still catches!
It's that time of year again. Usually around the holidays, when I have a few days free of work, I begin tying flies/kebari again to fill in gaps in my boxes and try out new things. I usually do this until the new season begins and the winter fishing ban ends. Although, I have admittedly crossed the border into a neighboring state that has year round fishing for the first time. I do some tying during the season, but it is not frequent.
Here are a few that I have tied this week during my Christmas holiday.
Here is the series that I tied up this evening after cutting and splitting firewood for 9 hours.
I find that I don't tie many sakasa kebari any longer. Yes, I do still tie and use some, especially in certain situations, they work brilliantly when nothing else will. These are some variations on others I've seen elsewhere and what I know works where I fish. Either way, they were fun to tie and I'm sure will be even more fun to fish.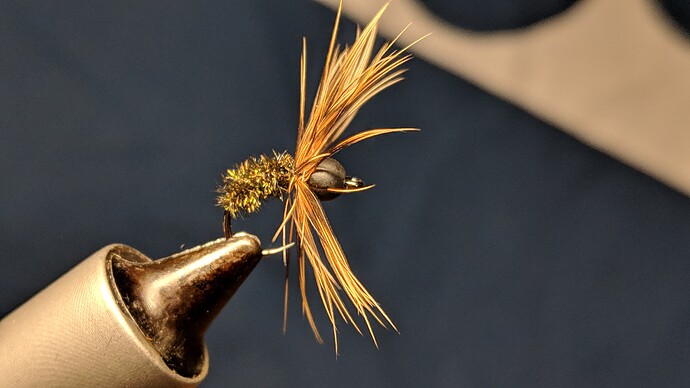 This has a matte black bead head, hen pheasant, and peacock herl.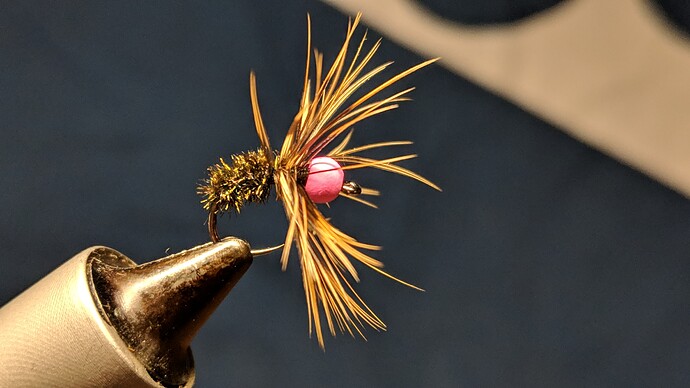 Exactly the same as above, but with a hot pink bead head.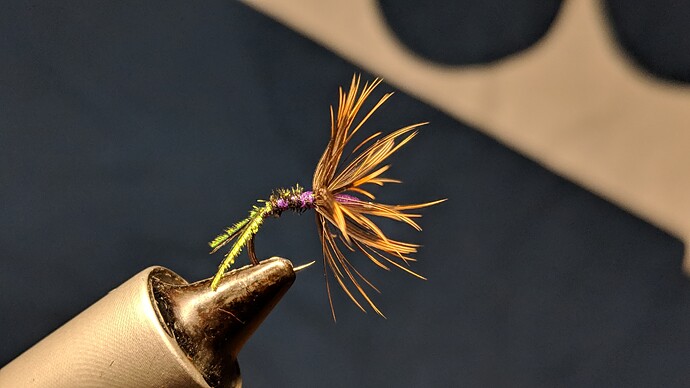 This is my variation of a kebari that is on Yoshikazu Fujioka's website and similar to one that John Pearson of Discover Tenkara also likes. Hen pheasant, peacock herl, and purple thread.
While I've another three months before the fishing season begins again, I have been thinking about early spring fishing. Maybe it's the snow storm of the past couple of days (which didn't even amount to half of what was predicted) or the -8°F (-22°C) today. Regardless, early spring fishing usually means going deep for the first few weeks if I want to catch anything.
I got some new tungsten beads and was playing around with some ideas. Any thoughts or opinions?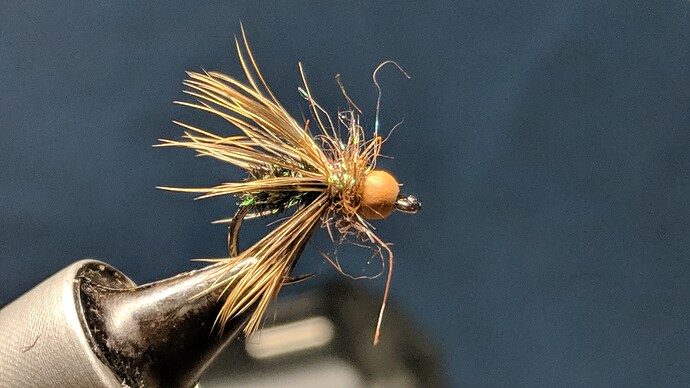 If you have read or looked at the Discover Tenkara book, "How to Fool Fish with Simple Flies" this next one may look familiar. This is my newest interpretation of Ajari's (Kazumi Saigo) bead head. This is an excellent pattern that I used a lot last year. The one I tied last year used a silver colored tungsten bead instead of the pink on here.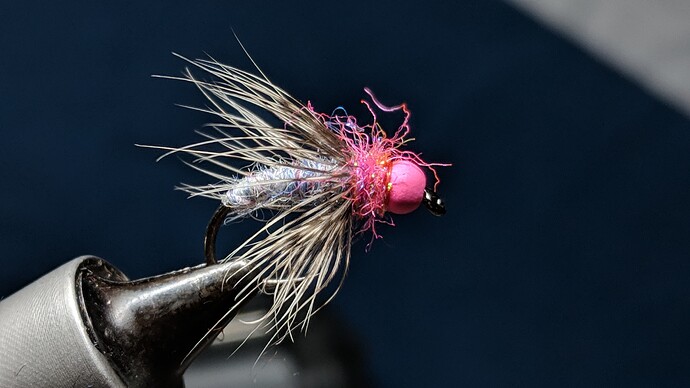 This is a slightly different variation that I was playing with after the first one above.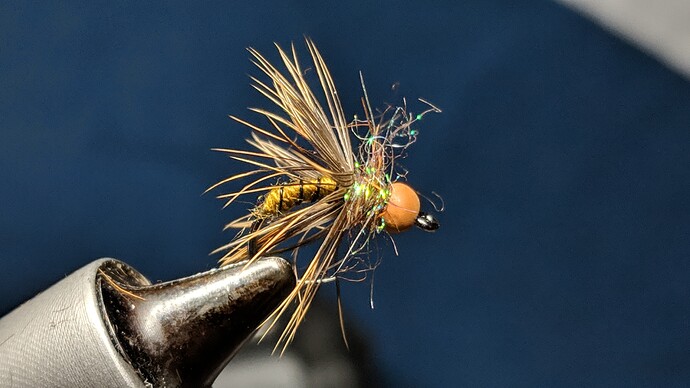 Those look very nice Peder.
I use beads a lot, although if I want weight I tend to use brass, although lighter, they are much cheaper. I buy mine from Poland.
I also like glass seed beads (the silver lined variety) which are very cheap but effective,they are even lighter.
Thanks, David. I fish with beads a lot too. My guess is maybe 40-45% of the time I use something with beads. Whilst tungsten beads are getting less expensive, you're correct, they are more so than brass. Though, admittedly, the most recent ones I got were a pre-order package deal and I got them for only pennies more than brass and got enough to last me several years at a minimum.
I've seen your frequent posts about the silver lined seed beads. It was actually your talking about them that got me to try some out. I have three or four colors and oddly had poor luck with them; not sure why.
I don't know about you, but when fishing is not going well with a new fly (or a fly with new/different material), I usually revert to something I am comfortable with and with which I've had success. I realize this creates a vicious cycle that reinforces itself (or at least can reinforce itself). Though every season, I try and explore at least three new rivers during the season and try one new fly/kebari at least once per week. I rather enjoy tying and fishing with different flies/kebari and have found some of my favorites because of this. I could never be a "one fly/kebari" type of fisherman.
I know what you mean Peder about 'inventing' new flies. I do it all the time but very few of them ever make the grade. Even so I get a lot of enjoyment from tying them and day dreaming about how this is 'the one'.
If ever I am stuck, or overcome by the ridiculous number of flies/kebari patterns I carry, my go-to is usually a Sawyer Pheasant Tail Nymph.
I hear what you say about the silver lined glass beads, if you haven't already got the colour then try the crystal clear silver lined beads, which really do replicate an air bubble. I collect American Fly tying books, usually hard copies and kindle versions. A favourite author of mine is Pat Dorsey of Colorado. It was he, who created the 'Mercury' series of patterns using the silver lined glass beads.
As you gather I too am not a one fly person.
I completely agree.
Hahaha, this sounds like me at times. For me, my go-to has always been the peacock and partridge.
Thanks for the tip. I do not have the silver lined crystal ones. I have forest green, red, purple, and I think lime green. There is a craft shop about 4 miles from my work that sells them for ridiculously cheap prices. Something like $2 US for 5g or $3.50 US for 10g.
@davidsr I was just reminded about the one fly that I did have luck with using a silver lined seed bead. Makes me want to reconsider and try that one again this upcoming year.
You can actually see a photo of it thanks to @Nick_Pavlovski. He posted it here (Thanks Peder!) where it's hard to miss. It's the one with the green bead with Brahma hen hackle and Jamieson's Shetland Spindrift body in the middle of the top row.
Tell me what the body is made of kebari?
Vladimir, I was wondering the same thing.
Wondering if it might be fusion tape body.
Or possibly wood, colored with water proof marker.
I do not recall what the material is called, a Japanese named and used material.
But I have some of it. Long paper then wood shaving, used by chefs.
I have an old Sebata video, in the video he ties a kebari - wrapping the body of the kebari with this wood material.
I have a picture somewhere of a kebari I tied using that wood material. I will post it later if I can find it or have not deleted it. Or maybe tie a new one, and post a picture of it. The picture may be on my other computer.
update: I recalled the name of the wood material.
檜 経木紐 [ Hinoki kyōgi himo] Cypress wood shavings string.
Or writen as ひのききょうぎひも
Some examples:
https://www.korin.com/Hinoki-Kyogi-String_2
David, it will be interesting to see. I like to try new materials, it is interesting.
檜 経木紐 ボディ毛鉤 [ hinoki kyōgi himo bodi kebari]
This one was not colored. But I do recall coloring some of them with Uni Posca markers.
I think I also wrapped on electrical self fusing tape first.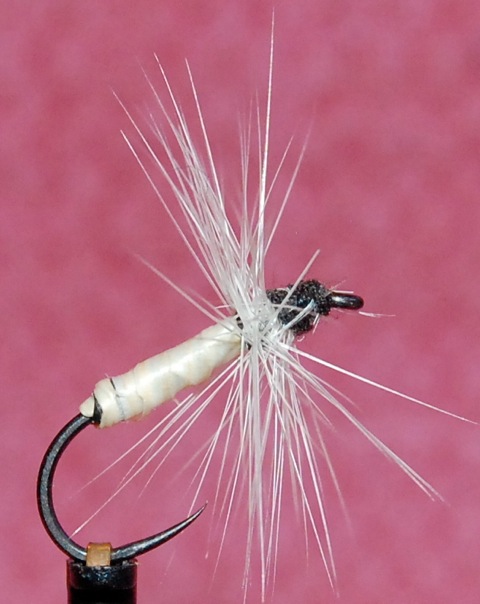 I do not know if this was a popular material to use 30 years ago, when the Sebata video was made. Or if was only a material he tried. He tied a kebari on the video using the hinoki kyōgi string. My guess people at the time who watched the video also tried it. But it seems to have fallen out of favor. This example was not tied very well. Maybe I can tie new colored ones later.