I had seen the below linked video a few times in previous months, but never watched it past the first couple of minutes until yesterday.
The video link starts at about 21 minutes when he actually starts tying the this tenkara fly, which probably should be called the Yoshi-Granddad kebari because Mike Hedden, the guy in video, apparently learned how to tie this fly in the early 1960s from when he was 11 y.o. from Yoshi a Japanese friend of his grandfather (however, that is never clearly stated), but he credits his grandfather for the red band on the fly.
Mike also states he never heard of tenkara until 2015, but he believes tenkara fishing is what he saw Yoshi doing when he was 11 y.o. More about Yoshi and what 11 y.o. Mike learned from him later.
I find it interesting to see how kebari were tied decades ago in old tenkara videos or old books. Methods that may have fallen out of fashion today. I don't recall ever seeing a kebari tied this way before. But maybe it is widely known to others.
What he does is wind the the body of the kebari with the stem of the feather. It's a little tricky to get the length of the stem just right so the hackle ends up being in the right place.
Here are a few I tied, in different colors. Using #14 Oni hooks from 3RiversTenkara. I only used head cement, not the UV cement Mike used, which I don't think is necessary. It does give the body an interesting segmented appearance. Maybe fish can see it and be attracted to it or may be not. Sorry for the pictures being a little unsharp, I didn't take the time to set up a tripod.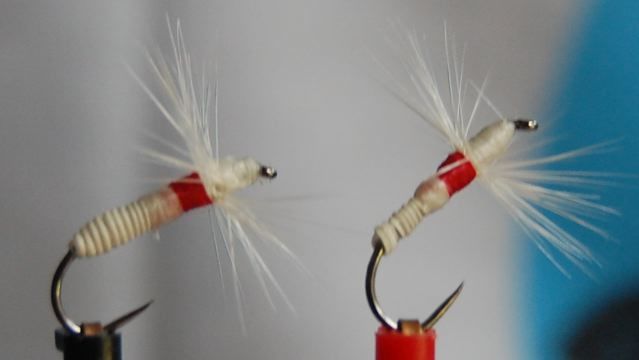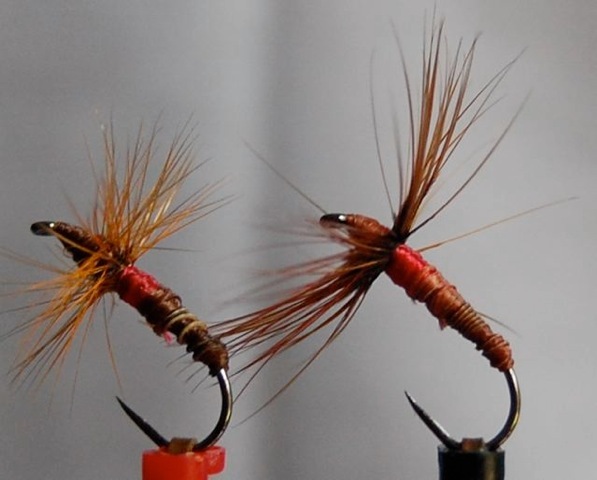 https://www.youtube.com/watch?v=FCOFIt1CAFk&feature=youtu.be&t=20m53s
You may or may not be interested in watching the first 21 minutes of this video. It's completely Mike telling a boyhood story. But I found it interesting. Mike tells the story of the ten or so times he went fishing with his grandfather and his Japanese friend Yoshi in the early 1960s, and what he learned from them.
Yoshi is described as always positive, generous, and he always out fished everyone else. Mike's father, who was quick to criticize other fisherman's tactics, described Yoshi as the best fisherman he ever saw.
Despite the video concluding with the tying of a tenkara fly Yoshi's advice to 11 y.o. Mike was that the rod or bait is not that important. The most important thing is "presentation". Despite our fondness for tying different kebari, or using different rods, in many places you can read the same advice, the presentation, right motion in the right place, is more important than the tackle being used.
If you've read the introduction to Daniel Galhardo's Tenkara book as a boy growing up in Brazil, which has a large Japanese community, he was advised that if he wanted to learn how to fish well - learn from the local Japanese fisherman. Mike seems to have had the same experience.
The story is mostly upbeat, but turns solemn for a few minutes when one day 11 y.o. Mike asks Yoshi about the war and his beliefs during that time. Yoshi was a soldier during the war. But out of that question Yoshi also taught young Mike another valuable lesson.
Anyway, it will be interesting to see if the fish like the way I present one of these kebari.
(fyi, most of Mike's uploaded videos are about woodworking and woodworking tools. Including the making of a tackle cabinet. a fly tying bench, and a rod holder for a float tube)