Sorry bad pictures 3.2 oz weight carbon fiber golf shaft and Leki hiking tips, gossamer gear handles.
I bought a pair of High Stream Gear aluminum carbide-tipped hybrid telescoping/folding trekking poles that have cork hand grips and included removable mud baskets and rubber tip covers, and a belt pouch for each pole off Amazon for a around $35 (they're up to $45 now). I carry one in a pouch on my wading belt. The collapsed length is 14.5 inches. They're not quite as stout as my BD poles but collapse much shorter and are about 1/2 the cost. They work very well as a wading staff and were a great deal at <$20 per pole. I think they are still a good deal $23 per pole
I think it's time I started using one.
I like the T handle of Dr. Toms.
I have a lightweight travel "balance pole" that will break in a second. It's used for steadying, not weight bearing.
I like the idea of NOT having to worry about it.
This will be fun making it and more importantly, using it.
Jean Santos, can I use your pictures for a piece I am going to make on wading staffs? You are an artist, a fishing artist and I love what you do.
Hi Adam , of course you can…I feel myself more craftman than artist and I love making stuf for tenkara fishing.Thank you for your comments.
Thank you Jean-Santos.
I bought my wood stick yesterday. I'll get this all together and bring it back here.
I think making your gear is part of being a tenkara fisherman. Making a wading staff is pretty freaking cool. I am inspired by you guys and I want you to know it. Dr.Tom and Jean Santos, I think Chris Stewart makes his too.
My hat is off to you guys.
I will be happy being steady.
@JeanSantos , would you be willing to do an interview?
I'm well on my way, I'm making a T-handle staff ala Dr.Tom Davis.
I'm really digging it, I'll use it next time I go fishing, super stoked.
Check the page, I've made three blanks, one for myself, one for my fishing buddy (his will be pink wrapped) and there is an extra that I will sell to re-coup my money. You can pick out your own color paracord if you so desire at boredparacord.com otherwise, I'll just lean it in the corner and finish it later.
I will finish the two shortly.
Super fun to make your own stuff for fishing.
I've got a couple of blanks just waiting to be put together.
If you are interested in one, let me know and I'll finish it for you.
Been thinking about using a wading stick as well, since my left hand is free most of the time and might save me from an awful humble.
Wondering what people do with their sticks once they have to handle a fish? Do people place the stick on the bank, have it attached to a string, tuck handle in belt, etc?
I've been using the Zpacks carbon fiber staff as a wading staff. I like the fact that's it's lightweight and folds down to a very small package so it works well for my style of ultralight backpacking. I attached a gear keeper to it and just let it hang behind me while I fish. It's so lightweight I forget it's there. It is also really strong and I've had it save my bacon a few times while getting up and down into some pretty sketchy places. I'd love to figure out how to attach some sort of hook or antler thing to the top. That would be a nice upgrade.
I like the paracord wrap, do you actually glue it to the staff? I'm thinking I may try that with my carbon fiber staff.
Hangs with you on a retractor down on the side.
Wrap a few times tight!
A smaller diameter CF pole?
Read Dr. Tom's article.
Some great wading staff ideas in the Teton article. I particularly liked the ideas of tape at knee level to test water depth, using the staff to dislodge snagged flies, and the placement of the Paracord. Will incorporate these ideas.
I use a stripe of black paint at knee depth but that is just me liking to paint.
I may pick one of these up for a wading stick, looks like it would be great for it and the survival options would be nice.
Cool.
I made mine. It's fun to make your gear. I think it's a part of being a tenkara angler, to customize or myog.
It's such a personal style of fishing.
But if I wanted a premade something or other like the staff you present, I would buy it and adapt it to my needs.
For someone wanting a good aluminum dual purpose wading staff - trekking poles I mentioned previously…
I have 50 trips over 18 months using one of the two High Stream Gear Foldable (and telescoping) Trekking Poles from Amazon I bought for $35 (now $47) including two belt pouches and rubber tips (or $24 each for a wading staff and a spare). I think that's a good value.
edit -
The collapsible sections of these poles have a push-button that locks them into place so they can't come apart.
Here's a pic of my wading belt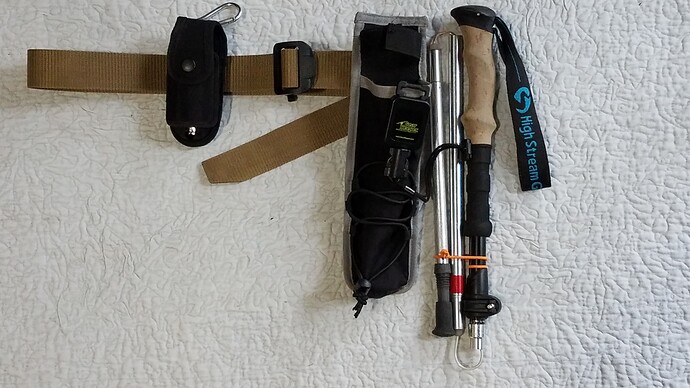 I recently replaced the original worn-out velcro keeper that ties the collapsed pole sections together with a piece of reflective shock cord I had lying around.
I added some red tape to show the water level at knee height.
I use a
"Gear Keeper" wading staff retractor
pinned to the pouch that keeps the staff in easy reach.
I lash a
Pedco Ultrapod
tripod to the staff when I need a hook for retrieving my tree decorations.
However if anyone is looking for a Premium Wading Staff a Washington Fly Fishing forum member is selling Custom-machined Wading Staffs. They're expensive - $95 each plus shipping and I haven't personally seen one but Steelheaders fishing big rivers in high winter water conditions are very impressed with them.
Brian, thank you very much, interesting story, good sticks for trekking.