In this week's video I head to Yellowstone and catch a new-to-me fish species. Beauties!
I tried and failed to catch grayling in some small Yellowstone creeks. So I instead headed up to a small grayling-filled mountain lake (a pond, really) in the Central Idaho mountains.
https://www.youtube.com/watch?v=b5soGycfIPk
Fun video. You can get grayling over at Smith and Morehouse and the SM creek above it regularly in Utah if you want another fun spot that is easily accessible. They call Grayling the hot dog of the mountains, easy to catch, but doesn't taste that great
@cc121 That spot has been on my list for a while, but I haven't gotten around to it yet!
In this week's video I caught several species of tropical/warm-water fish (including several goldfish) in a hot spring in the Idaho desert. Not exactly traditional tenkara, but it was still a lot of fun!
https://www.youtube.com/watch?v=CdRTBIknCKc
Lol cool video. I laughed at the "another Goldie". Weird area. Thanks for posting!
Very nice video. Love that size of stream. (one with bows and bull trout)
@dpnoll That's my perfect size of tenkara stream, too!
In this week's video I test out a new rod for the first time (Dragontail Mizuchi), fish three new creeks, and catch two new-to-me subspecies of cutthroat trout, all in northern Utah.
https://www.youtube.com/watch?v=FrlyzAZnnRM
Great video Tristan! Always enjoy your enthusiasm!
It would be interesting to see what flies you are using. Do you tie your own or where do you get them?
Hadn't the chance to dig into these. Pretty awesome videos and wow…you fish some beautiful water. You are lucky to have access to such nice water. Thanks for sharing.
@cc121 I tie them. I use one fly for basically all of my fishing: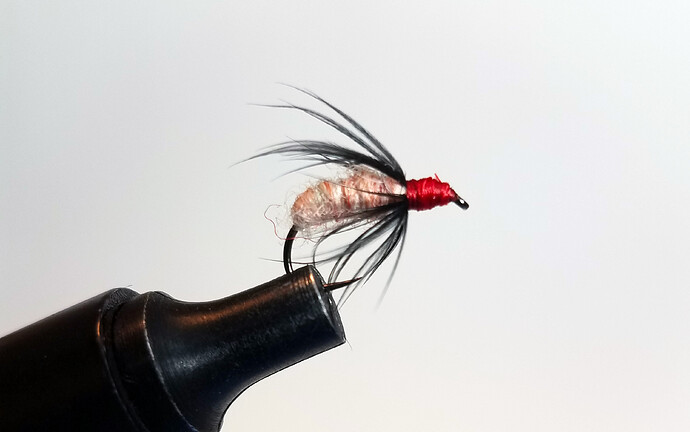 @Gressak Thanks, I'm glad you like them. And yep, I'm lucky to be able to fish some really beautiful places!
In this week's video I fished the Uinta Mountains of northern Utah for the first time. This is a mountain range I love and that I've spent a fair amount of time in, but this was my first visit since getting into tenkara. Anyway, I caught my first tiger trout and had a great time checking out the perfect little meadow stream above it.
https://www.youtube.com/watch?v=rJgIvSnK0c4
In the Driftless Area of SE Mn tiger trout are relatively rare and come from wild brookies mating with browns. I was lucky enough to land my first one this fall on a hopper. The stream holds wild reproducing browns in the lower reaches and wild brookies closer to the source of the creek. They sure are gorgeous.

Tiger Trout by David Noll, on Flickr
Amazing coloration to this trout, WOW!!