I've been to this stream twice before, and it's one of my favorites in Alabama. For those that don't know, the Talladega "mountains"/national forest are the foothills to the Appalachians. This is where it all starts. I think that is super cool.
My primary target on this stream is Micropterus coosae, or Redeye Bass. Here in AL we lovingly refer to them as Alabama Brook Trout. They are generally some of the smaller bass you will encounter in North America, but have beautiful coloration (blue cheeks, red-tipped fins, red eyes, awesome stripes and bands on their sides, warpaint on the face), live in beautiful places, and are aggressive fighters… Kinda like everybody's favorite native char.
For reference, here is a redeye from this stream, on my first trip which was last summer. Yes that is a popper thrown on a tenkara rod. Works great.

IMG_20160714_093447 by Chris Lynch, on Flickr
Well this was my first time to bring Wyatt (who just turned 5) out to this trail. Nice trail that follows the creek somewhat, but for best fishing you need to rock hop or wade, and it actually winds up being an easier hike, since the trail gains some elevation and dips away from the water for a ways. I think it is far more enjoyable to stay on/in the creek, but that is not what Wyatt wanted to do today.
He would not allow me to fish for very long before he got impatient and starting losing his shit haha. He had zero interest in fishing himself either, contrary to what he told me on the way up. Oh well, hiking was good and the weather was better.
We wound up at one of the big nice swimming holes, and there were other families there so he had kids his age to play with in the shallows. This gave me a chance to fish some. There were no bass in this spot (at least none i could see), but plenty of shiners and chubs
, better than nothing!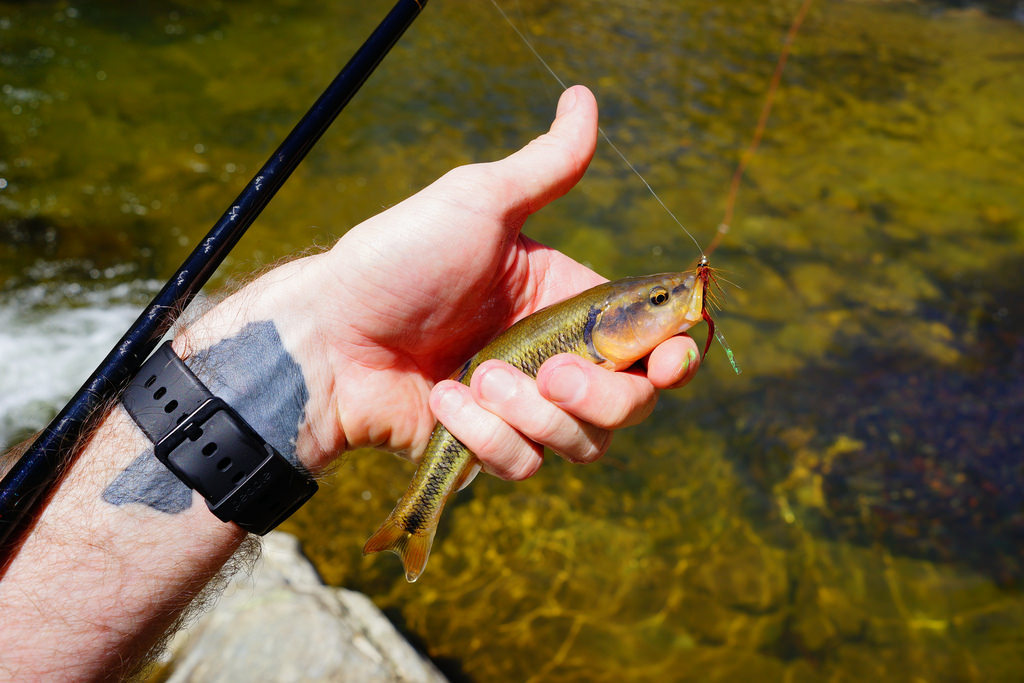 hornyhead chub by Chris Lynch, on Flickr
Got that guy, full of horns and color. My first in spawning mode, not disappointed.
This wound up being my only fish of the day, because I learned a hard lesson down at the lake the creek empties into. I've long known about proper tenkara hookset, vs my instinctive "Bill Dance" maneuver that I pull a good portion of the time.
I was targeting bass on their beds at the mouth of the lake, and had two separate takes where I set the hook too hard, and broke the fly right off. I think it was mostly my crazy hookset, but also the fact that these were larger fish than I normally tangle with (not much bigger, but it would have been exciting on the Seiryu-X 45)…
here are pics of him having a blast:

Different change of clothes, because this ain't my first rodeo:

man this doesn't look like Alabama, or the Appalachians. More like out west somewhere, right? Wish there were trout down there!

wiped out