Most of my season I am out fishing the saltwater, specifically for striped bass.
The striped bass fishery is in a decline…over harvesting from commercial
and recreational anglers. The fishery is so bad… that many consider this year to be the
worst season they have ever had.
This has been on the minds and in the hearts of all of us who
love this sport and have young children. Will our children ever have
the chance to experience what we have been so blessed to witness
and experience?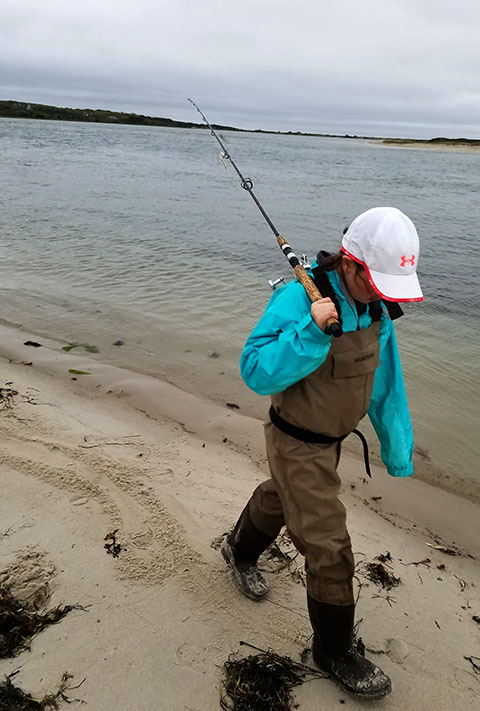 For the last three seasons I have taken my daughter out to catch her
first striped bass. We have made attempts all over the northeast. Most patterns
or dependable fishing, no longer exist, and most of our fish require far more
effort and skill than a youngster new at this sport can have.
This season my daughter is nine.
The rig she is fishing is a lamiglas 1311 steelhead rod matched with a
vs100. It was my Southern California surfcasting rig…now she
refers to it as hers…hahaha…I guess everything i have is technically hers.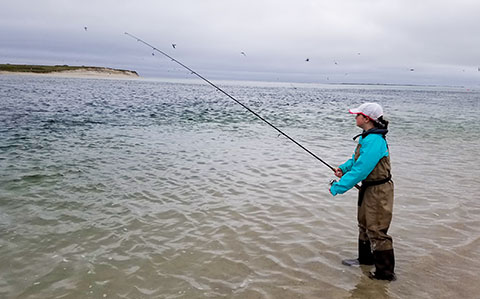 I was lucky to have the stars align on a bite that must have been a
time traveler from the past. Nothing noteworthy but a mass of
school class fish that would show up at dusk every night, and then as
darkness fell they would vanish.
I traded fishing this scheduled event two nights to share this event
with my daughter and act as guide and official unhooking sidekick.
I was so proud of my daughter, for so many reasons. Just the fact
that she shares an interest in the ocean and its inhabitants. On this
particular outing she would only count fish she casted to, hooked, and
landed. If I did anything, she told me they did not qualify as her
catch…hahahha. I am not going to get into it, but her fish counts
those outings were pretty impressive. For any of us they would be
considered excellent. All bucktail or teaser fish, with some double headers.
hahahahha. She really wanted to catch a fish big enough to harvest.
We got close but it just was not meant to be. It seemed to motivate
her and both nights we stayed until dark. Just so much enthusiasm, it
is so hard to express the fun we had.
I am so thankful for these outings and opportunity to share it with
her. As you can see in the video, she has the form of a seasoned
angler in landing her fish. That is the great thing of all kids her age,
they take and apply instruction so well. The benefit of having easy
fishing made the learning curve even quicker to overcome. These are
really the first fish she has ever casted to and landed in her life. I am
so proud of her. I hope all of you have a moment like this to share
with your children.