trout management area…tma.
Thank goodness for trout management areas in the new york metro. And thank goodness they dumped something other than rainbows in. I have survived on rainbows all winter…but must admit that they are not where my heart is.
The rivers in CT are like the tines of a rake. Parallel lines that start from the north and deposit into long island sound in the south. I was greeted friday morning with herald of spring. A flock of about 50 canadian geese. They used my river as a compass needle and flew up it low altitude…honking and fulfilling their formation of perfection.
I caught word that the tmas were stocked a couple weeks ago. The fish were rising to little bugs, yet I still managed a domesticated trifecta.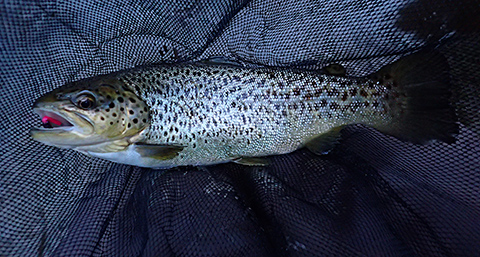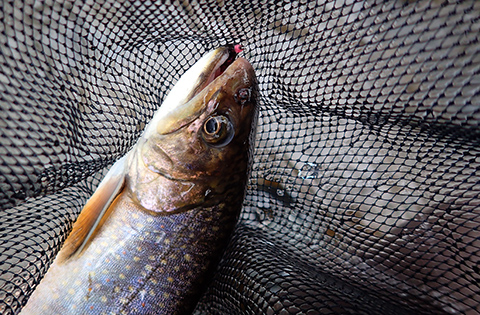 The fish more or less fell in that order. The brown must have eaten a few other browns in the cement pool as it was twice as wide as a normal fish…hahahahahaha.
What was interesting about this outing and other outings over the weekend was that I had much luck with other some manipulations that were previously just academic to me.
The above rainbow fell to the triple surface kiss then the drop. I spied a couple fish in a pool that would not respond to anything. Then I tried the pseudo hatch and that seemed to get them riled up. The fly was barely in the water 2 seconds and two nice rainbows were wrestling over it. The ticket this weekend was the gravedigger…killer kebari, and the creature.
This past Xmas…my 8 year old daughter surprised me by asking for a pair of water pants for fishing. I picked up some inexpensive waders that were on sale for $19 at cabelas and also bought her a tenkara rod. We fished twice this past weekend. I am so proud of her. She took direction better than some of my grown up fishing friends…and had some nice casts landing. She even had about a dozen takes, but she did not convert any of them…yet was not frustrated but motivated. She might have the bug.
I hooked one brookie for her to land.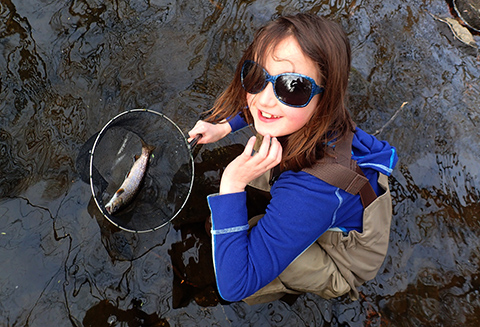 We had a great time.
This weekend I started experimenting more with manipulation and swinging flies. Some of the benefit of the tma is that these fish are not very shy, so I have the ability to try a lot of different things on them. I am gaining some confidence in some techniques I have tried without results. Pretty cool to get some new tricks.