I want to talk about one fly and who out there does this.
The funny thing is that for striped bass there is an equivalent one pattern it is called a bucktail jig.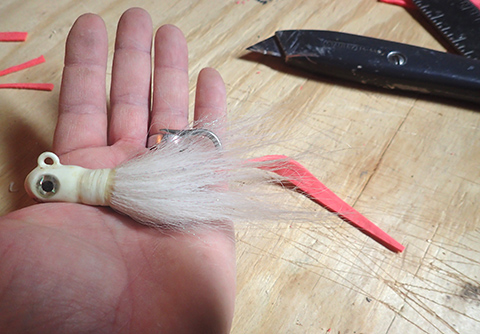 I mostly fish white and occasionally chartreuse in stained water. The biggest variables are its weight and the amount of hair. Both factor into both its profile and its buoyancy.
The description of the bucktail.
It is a lure that does not imitate a specific forage but represents them all.
Sound familiar???
Anyway striped bass spend most of their time on structure in current.
To target these bass one needs to identify the jig weight that will allow for the most natural presentation at the right depth. A presentation depth that typically is low to the bottom. A weight that may tick off the bottom but not settle their on its own. Too heavy and your dragging bottom. Too light and you never make it to the fish. You need the weight that will allow the jig to remain suspended by the water speed.
I really believe the same rules apply to trout. Matching a fly to the water you are fishing and the target depth may be one of the most important considerations. You want to make it easy for that fish to take your offering.
Nuances of weight make a huge difference.
I must admit, I do change flies a bit. Often I am not focusing on the fly coloring but rather the working depth.
This year I am going to trim down the color and material patterns and just tie up a few that I am fully confident in. The thing I am going to do differently. I am going to just vary the size and weight of these patterns to have more options when fishing a stretch of river. Lately, I have been very frustrated in my drifts. Some of my flies are too heavy, some not heavy enough…some are too light.
three or four patterns.
three to five weight variations
two sizes regular and small
things to vary the weight.
hook wire diameter
beadheads
wire wraps
That ought to cover it and get me one step closer to the one fly philosophy.