Ever since seeing fishing nets being made at various maritime museums decades ago I've been intrigued by the process, and the different types of nets that one can make. But when younger I never gave it a try, only read about it, because I doubted I would have the patience to tie hundreds of knots. But recently with the passing away of my brother-in-law, I figured I better get on with things in my bucket list before it's too late, or remove them and shorten the list.
One thing on that list is learning how to sew, which I have recently been working on, and each new stuff sack, or eye glasses pouch is mostly a little better made than the previous one. The goal is to work up to the skill level needed to finally sew the Yama Mountain Gear net-tent kit I purchased a few years ago from Gen Shimizu.
https://yamamountaingear.com/collections/diy-kits/products/net-tent-kit
A project that has gotten a low priority for a few reasons; mostly when I go camping I prefer to sleep in a camping hammock, rather than on the ground, and secondly I didn't know the first thing about sewing beyond hand sewing on a replacement button, and I've had little success persuading my wife to teach me the basics of sewing machine operation.
Additionally, I recently became interested in Sashiko, [ 刺し子とは ]. Or more correctly, interested in trying to convince my wife it might be something she would enjoy trying. No luck, again. I ended up giving it a go myself. A couple of early attempts at small sashiko projects. [ maybe a huge mistake, now I am being asked to hand stitch quilts my wife and mother-in-law are making, my defense is the two are much different techniques]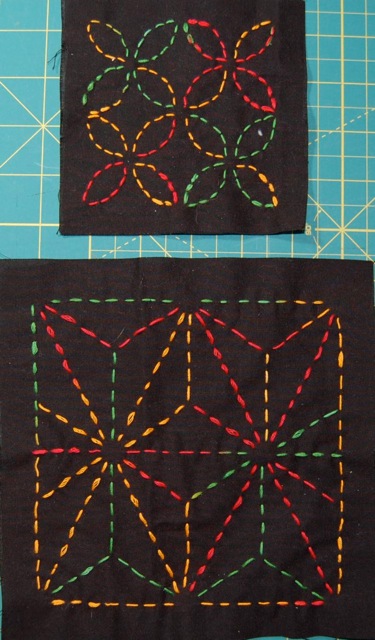 I decided if I could make hundreds of stitches, I also could tie hundreds of knots.
After some research to discover the proper knots to use with slick line, basically a modified double sheet bend knot, and after a few 8 row x 8 mesh net practice pieces to get the hang of it. I set out to try my hand at making a net gear hammock, in a small scale. Mostly following the process for making a "purse net". A type of net used in the UK for catching rabbits. Not sure if they are used here or even legal to be used here. The procedure is to spread the net over the rabbit hole, pegged to the ground at one end. Then either wait of the rabbit to come out or send ferrets down the rabbit hole to chase them out, and get caught in the net.
My first two net projects:

First one, I added two meshes to each row to the widest point, carried on with the same number of meshes for a few rows, then subtracted 2 meshes from each row toward the opposite end. This made more of a belly to the net than I wanted. It does not lay or spread out as flat as I wanted.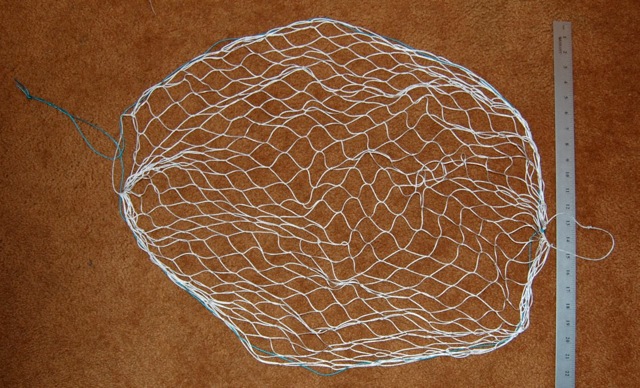 Second try. I thought this one would finish about 60 inches in length, but it finished about 49 inches long. But it is a flatter net. Starting with 6 meshes, expanding by one mesh each row, up to 13 meshes per row, then 16 rows with 14 meshes per row, before again reducing by one mesh per row, back to 6 meshes at the last finish row.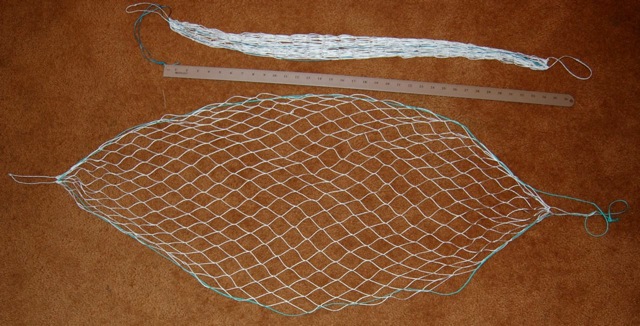 Next project will be to make a net that is longer and wider. Maybe 60 ~ 72 inches long x 40 ~ 46 inches wide. And maybe made from a stronger line.
The twine I have used thus far is from a large spool I purchased at hardware store on the east coast a few years ago that caters to commercial fishermen. 85# test, twisted nylon, and very ornery stuff as it is very slick, difficult to get the knots to cinch up correctly. Which is what I wanted to use for first projects. I figured if I could get the hang of tying correctly with a difficult type of line, then later I would be more successful at tying a net with a type of line that would be easier to work with, and make fewer incorrect knots.
The two nets above had three or 4 knots that ended up being tied incorrectly, (knots that slid rather than locked into place, caused either by the knot ending up below the bottom of the loop, or in a place or two a lost of focus resulted in the lines just crossing, and not knotted at all), and I hope to improve on more consistent mesh length and tension.
If my net making curiosity isn't satiated after completing those projects - maybe I'll try making some other kind of net. The idea at present is just to make a type of light weight net gear hammock that could maybe be used above or beneath a camping hammock.
Anyway, the process has turned out to be rather relaxing easy rhythm, and can easily be done while watching some show in tv. If I could figure out how to tie a net and read at the same time, I'd be all set and good to go.