What is the story with this hook, フックの迷宮 (Labyrinth Hook, maybe a inaccurate translation), which is on the front cover of Tsuribito's Fly Fisher Magazine?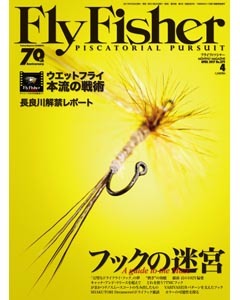 My first reaction upon noticing that it is the April Issue, released Feb 22nd. [ 『FlyFisher2017年4月号』2月22日発売!] Is that it is an April Fool's Day joke.
However, I don't know if that is a day that is part of Japanese culture. And looking at the description or contents of the magazine. It appears that it may not be a joke, but rather something taken seriously.
http://tsuribito.co.jp/%E3%80%8Eflyfisher2017%E5%B9%B44%E6%9C%88%E5%8F%B7%E3%80%8F2%E6%9C%8822%E6%97%A5%E7%99%BA%E5%A3%B2%EF%BC%81/
http://tsuribito.tameshiyo.me/4910177470475
Joke ? Or research tool?