Many times I have seen reference to ハックルさん (hakkuru-san) Mr. Hackle, I guess.
This evening I found this web-page, with the title
初めてのてんから!?|天竜川水系 テンカラ釣り
First time Tenkara !? | Tenryu River Water System Tenkara Fishing
With a picture of a kebari with the caption -
毛鉤はもちろんハックルさんの"スギッパ巻"。
Of course a kekari Mr Hackles "Sugippa wound".
[ btw, Chris L - he is using a Daiwa Neo Tenkara Minomushi 33 rod ]
http://www.sakanakokoro.com/2016/05/27/9687/
Clicking on ハックルさん was a link to the g3kebari blog. But is the owner of that blog ハックルさん ((Hakkuru-san) ?
Well, it is. Confirmed by the profile on blogmura:
http://www.blogmura.com/profile/01156732.html
And right on the g3kebari website it says
プロフィール Profile
名前 : ハックル Name: Hakkuru
Anyway, I'm still not sure what is meant by a スギッパ巻き。(sugippa-maki.) Sugippa Winding.
It appears to be a name of his own creation. Most Sugippa wound kebari are on his blog or on blogs that reference Hakkuru-san or the g3kebari blog.
Here's a picture of one: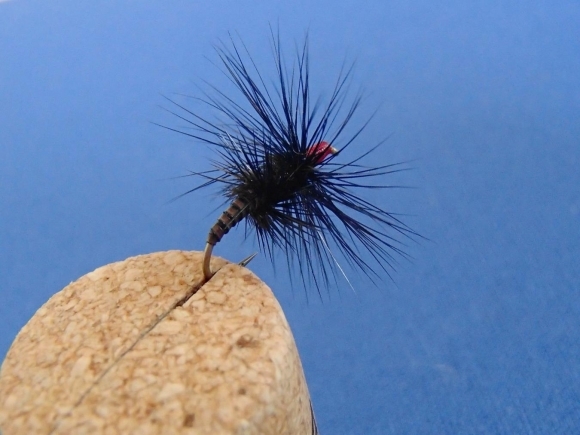 From this May 2015 blog post
http://g3kebari.blog.fc2.com/blog-entry-547.html
Another example from June 2013
http://g3kebari.blog.fc2.com/blog-entry-165.html
And one more from a 3d website Feb. 2015
http://kanpesan.blog.fc2.com/blog-entry-255.html
To find more examples Google
スギッパ巻き・毛鉤 (sugippa-maki - kebari)
Or
ハックルさんの毛鉤 (Hakkuru-san no kebari) Mr. Hackle's kebari.
What sugippa means remains a mystery. But they are cool looking kebari. And Hakkuru-san ties a lot of interesting looking kebari.
Another 2¢ uniquely named kebari tour.
D