A little more information about the 山釣りJOY 2017 magazine (available in kindle format from Amazon US, ~ $13) Published May 2017, 146 pages, that I mentioned previously in the River-Walk thread.
The theme of the issue is - Go to the headwaters! Mountain Fishing is an Adventure!
(I did order it, but haven't yet downloaded it to my iPad). Seems to be a mix of all types of mountain stream fishing, and general mountain stream activities and stories. Japanese language. Maybe I will actually be able to read a bit of it.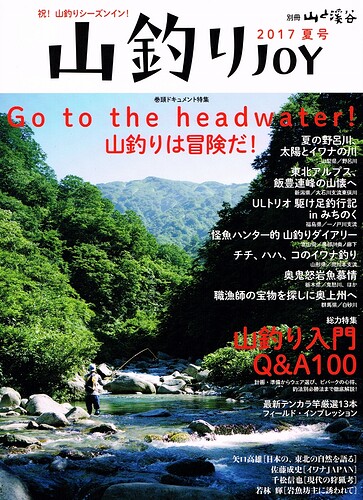 Looking at the TOC, the only Tenkara specific listing I saw was:
最新テンカラ竿厳選10本フィールドインプレッション
Field impression of 10 most recent carefully selected tenkara rods.
Also 戸門剛さん(Tokado Tsuyoshi-san's) research onto - The footsteps of former job fisherman (かつての職漁師の足跡, Katsute no shoku ryōshi no ashiato)
The summary of the issue on the River-Walk webpage translates fairly well.
http://river-walk.co.jp/?p=2125
The publisher is Yamakei (? Mountain Valley ? ), 山と溪谷社, their web page for the issue doesn't translate very well, but you can see a few sample pages. Looks to be use to the usual high standard of photography. So even if you can read much of it, you can at least enjoy the pictures.
http://www.yamakei.co.jp/products/2817924600.html
For those interested, link to e-book version on Amazon USA:
Mountain Fishing Joy e-book on Amazon USA
D