I don't care the difference between kebari and fly so much. Especially kebari and soft hackle fly
A few years ago, Yvon Chouinard tested "one fly pattern for one year for every fish" and he chose a simple soft hackle fly, partridge and pheasant tail pattern.
For me, his fly looks like Japanese kebari, I can recognize the difference though.
His test was successful, he could catch a lot of fish by one pattern fly.
I think Yvon tells us that the universality of fly patterns has a similarity, even if it's kebari or fly.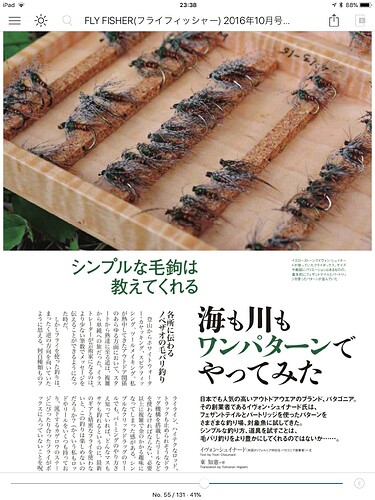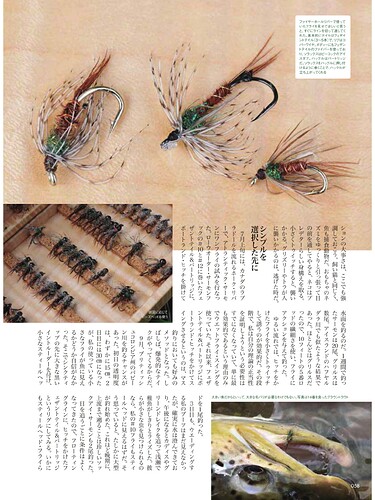 COSTRUIRE UNA MOSCA VALSESIANA [Build a Valsesiana Fly ]
Short Version

Original longer version

Incontro tra la società pescatori Varaita e la Comunità Valsesiana
[ Meeting between Varaita fishermen and the Valsesian community ]
Arturo e Masami [ Arturo と榊原正巳 ]
I really like this.
So much.
Answers quite a lot of questions, not my questions but answers them no less.
Thank you for this review!
I think the kebari vs fly thing helps categorize things a little bit. A "western fly" can also be considered kebari - especially soft hackle wet flies and some flymphs. And yes, kebari have many variations including "normal" orientation of hackle, reverse, soft or stiff hackles. But a "fly" like a parachute adams doesn't really resemble the more traditional style japanese patterns, so I would not consider that kebari.
But, anything goes these days so if you want to call a popper a kebari - feel free to.
I agree with that idea
My hopper pattern at tenkara-rod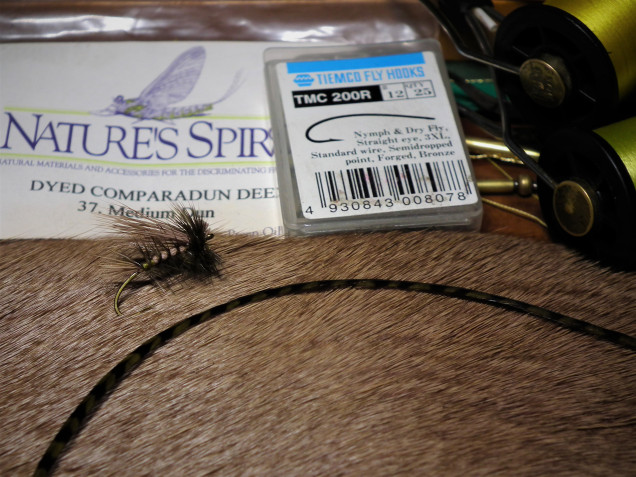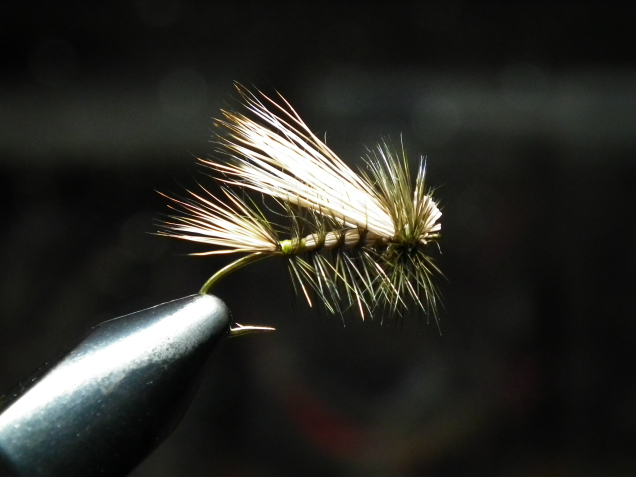 It was too heavy for STIMULATOR-FLY
The kebari pattern is mostly brown, black and white
Because it alone is poor, I dye the mountain cocoon by myself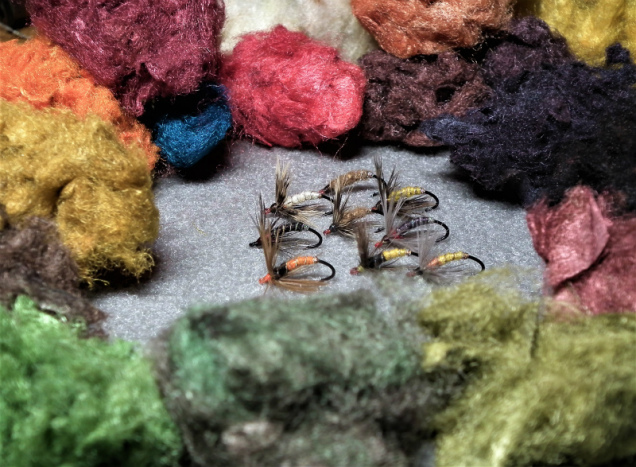 The mountain cocoon is a wild type of domesticated silkworm and the fiber is very thick
And the glow is wonderful
Although this has not been introduced, it has been used for kebari since long ago
I like those, looks like a fun material to use
ローバスバチック http://seiwa-net.jp/shoplist/
Roapas-Btik
It is acetic acid-based water-soluble dyes for leather
1、Easy to handle as it can be diluted with water
2、You can color mixing
3、The material does not get stiff
Alcohol dyes with excellent light fastness also have things that make the material harde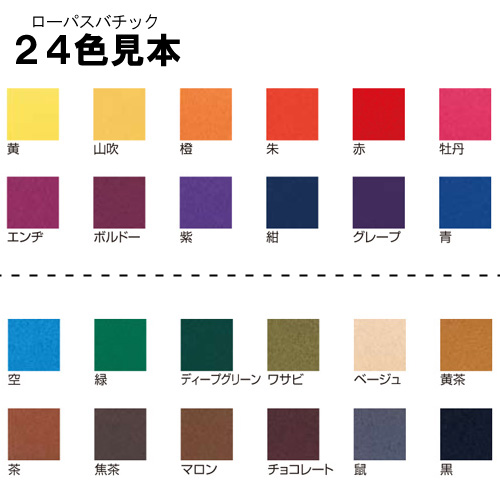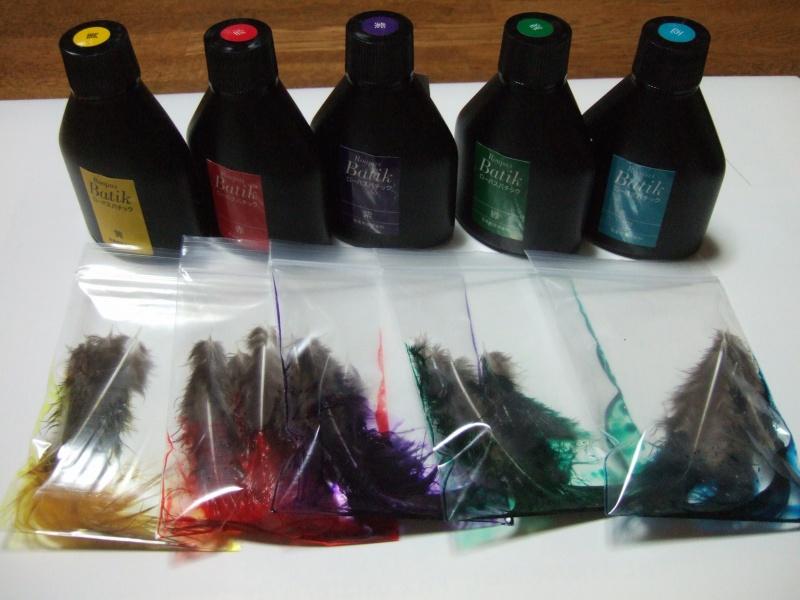 dyeing feathers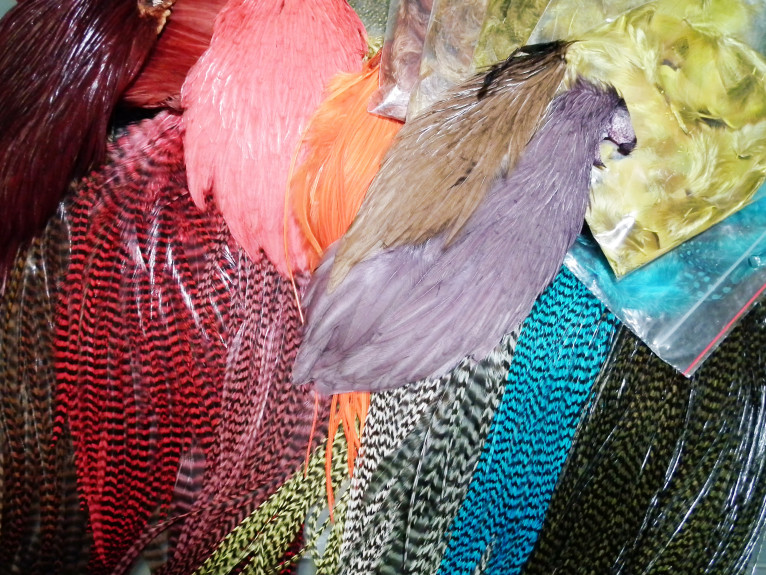 I dyed it for loch fly in England
It is PM 5: 00 in Japan time now
I have returned from the apple farm
I'm sorry during everyone's sleep
Killer bug zenmai body version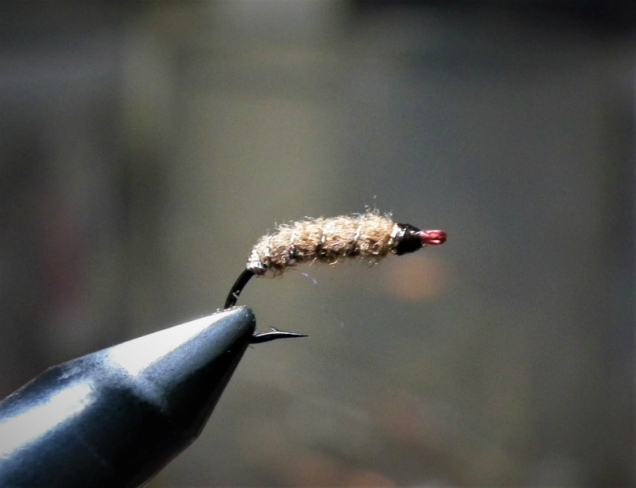 The same article was there to Tenkara-Bam When I look at the web

I am happy that people with the same idea is present
There are many patterns that I want to use as kebari also for fly for lakes in Ireland and the UK
・・・ loch fly
I think that I had never seen overseas tenkara sites unless I joined this forum
I appreciate everyone.
Something like this?
http://www.trout-salmon-fishing.com/loch-fly.htm
I am young enough that I missed out on learning about Lock Flies first hand.
The submarine I crewed on operated out of Guam. But before it was stationed there it operated out of Holy Loch, Scotland. My avatar is the Polaris Military kilt tartan created by request of the commander of SUBRON14 in Holy Loch.
Registry of the Polaris Military Tartan
We also appreciate your input to the forum.
Yesser Mr.@ dwalker
Here is the old kebari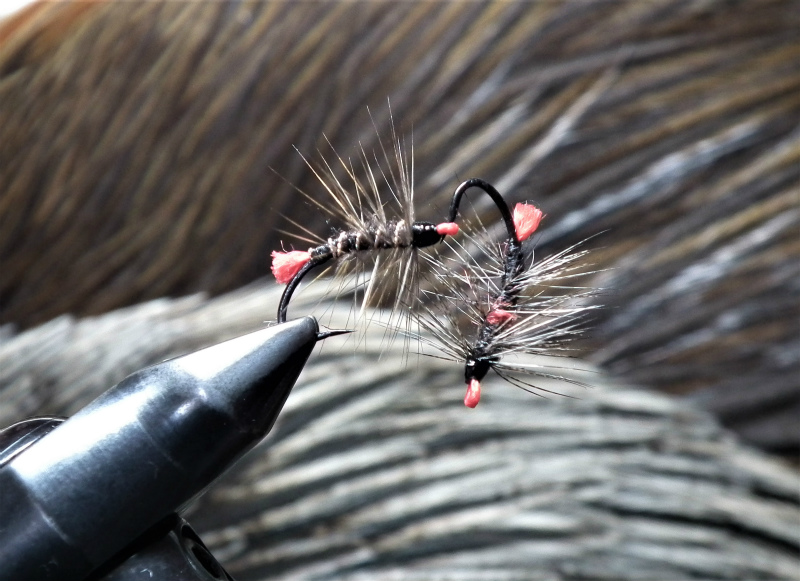 I am surprised that the tartan check of the division is given to the ship
I think that it is pride and honor
As stated elsewhere on the forum. Odd translations from Japanese to English can often provide a smile.

The title of your blog post about the Mountain Cocoon body kebari is a fun example.
Google translate default translation of 低下凡夫の毛鉤 is : Declining bastard's hairs. With an alternate translation of - Fly of the decrease in ordinary man.
And 低下凡夫の毛鉤。Translates as - Declining bare hair.

Humble Man's Kebari is my best guess.
Anyway, the mountain cocoon, 山繭, ヤママユ, [ yamamayu / Saturnia] from the 天蚕 [tensan] Wild Silkworm or Japanese Oak Moth. Is interesting.
https://en.wikipedia.org/wiki/Antheraea_yamamai
The Yamamai part of the name makes me think it is related to the word Zenmai , ゼンマイ. The fibers from the Osmunda japonica fern.
I'm not certain I understand the next web page. But it appears to me that the Mountain Cocoon is also made into yarn and cloth.
http://kuusounomori.sakura.ne.jp/yamamayu.html
If one needed to you could make both your kebari and your fishing clothes from the Mountain Cocoon.
And from 「天蚕糸」[tegusu] Silkworm gut. Make your fishing line too.
A remarkable material.
In the old day people were forced to figure out how to use things found in the mountains.
hahahahahahah
English translation of Buddhist thought is a typical example of being a pleasant mistranslation
低下凡夫・・・It is the meaning of an ordinary person full of desire
Thank you for teachin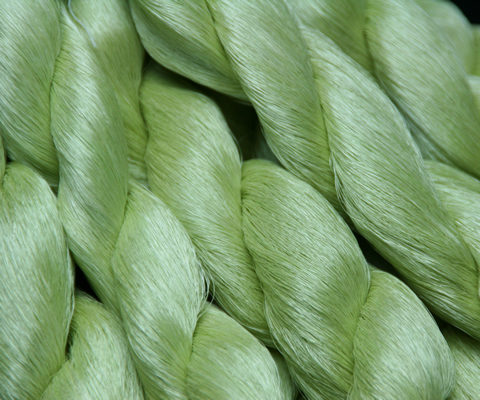 6.7USD/g・・・It is very expensive
If it is a kimono, it will be the amount the house can buy
Ah, I did see the Buddha translation. But rejected it as incorrect.
However, I also found a translation that was almost correct. It was something like - strong desire of an ordinary man. But I also thought that it was wrong. And rejected it.
Guess I should have believed I had found the correct translation.
Anyway, I did a google search with , 山繭胴毛鉤 [Yamamayu dō kebari].
Which could be translated several ways : Mountain Cocoon body kebari. Saturnia body fly. Or Yamamayu body fly.
There are some Mountain Cocoon Kebari on the Densho-Kebari website.
伝承毛鉤 [denshō kebari] Traditional Kebari or Folk Lore Kebari
Sinking Hanagasa Mountain Cocoon Kebari
But more informative. I found two of Todoroki-san's blog post from August 2015 that showed how he tied 2 different kebari with Mountain Cocoon bodies.
2015・08・01
普通毛鉤 山繭胴 ヤマメ毛鉤
Futsū Kebari Mountain Cocoon Yamame Kebari
futsū kebari yamamayu dō yamame kebari
The tying step in the picture labeled Mountain Cocoon Natural. Looks chaotic.

山繭 ナチュラル Mountain Cocoon Natural
山繭 ぺールグリーン Mountain Cocoon Pale Green
Interesting statements:
山繭は水の中では透けるため. The mountain cocoon is transparent in the water.
ヘッドの朱色も魚へのアピール. The vermilion color of the head also appeals to the fish
2015・08・05
逆さ毛鉤の蓑毛調整
Sakasa Kebari of Minoge Adjusted??
[ I was not sure of the meaning of the last phrase. 調整, Chōsei. Will only translate as Adjustment or Tone Adjustment. And チョウセイ, Chousei ; translates as Adjust or Adjustment. And 蓑毛調整, Minoge chōsei : translates as tailoring adjustment. Strange mystery.
My guess is that it refers to the way he folded & adjusted the length of hackle. When folding it over the dubbed vermilion color head of the kebari. As shown in the bottom drawing labelled ;
逆さ毛鉤蓑毛の長さ調整, Sakasa Kebari Minoge Length Adjustment.
A neat trick to shorten the length of the feather barbs by about 25%. When they are to long.
2x hook gap is to long. Ideal length = 1.5 x hook gap. As stated.
Sakasa Kebari of Adjusted Minoge
*** I linked to Google translated web pages for both blog post. Not sure if it helps understanding or not. Because the digital translation is very strange.
Often where it says Wool it should say Minoge. Is one example.
Other examples:
Adjusting wool of inverted hair folds = 逆さ毛鉤蓑毛 調整 = Minoge Sakasa Kebari Adusted.
Dupped the mountain vermilion vermillion dide as a head back to the original =
折り返した元にヘッドとして山繭朱色ダイドをダビング
Which I think should translate as
First dubbing the vermilion mountain cocoon as a head at the origin.
[ Google translates ダイド, daido, as Dide. But Google translates 第ど, daido as First Thing.]
Then there is this odd bit of translation:
ダイドをダビング, daido o dabingu , Dude Dubbing ( that is funny
}
第どをダビング, dai do o dabingu , dubbing the chapter or second etc, the dubbing.
Strange puzzle - Japanese to English or English to Japanese language.
Anyway, Todoroki-san's pictures of the tying process with mountain cocoon are quite good.
Maybe we can learn some new fun tying tricks.
@dwalker thank you for the explanation
In the sense of appreciation
I put on a kimono on kebari
winter kimono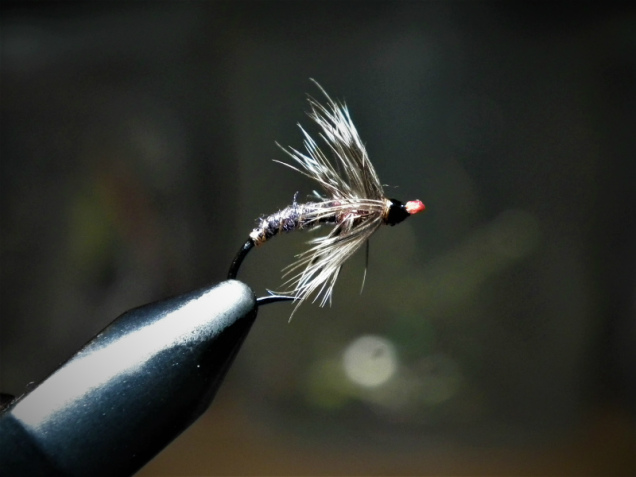 Spring kimono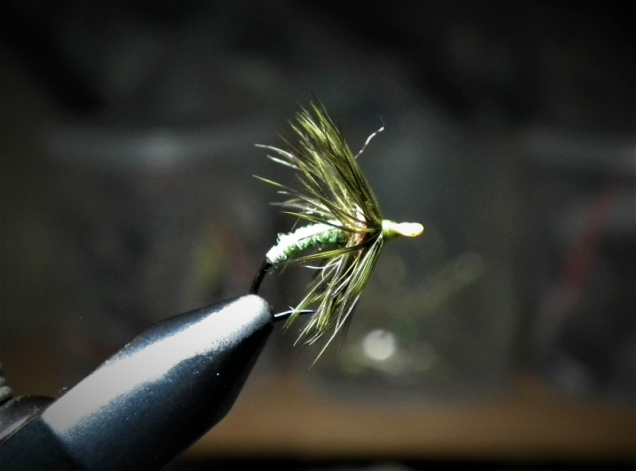 Summer kimono

Fall kimono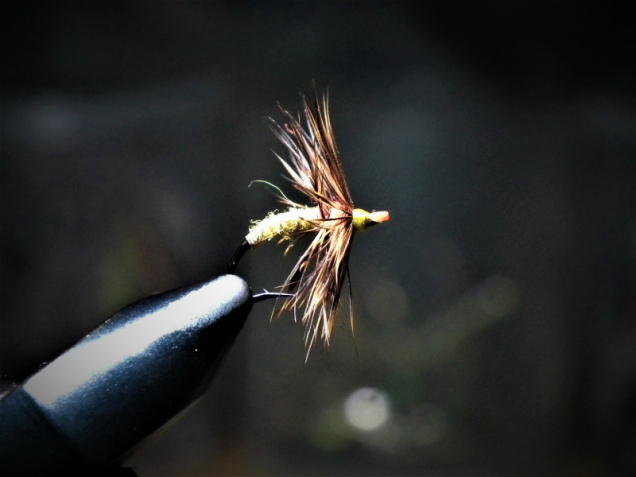 The recipe is Half Stone Fly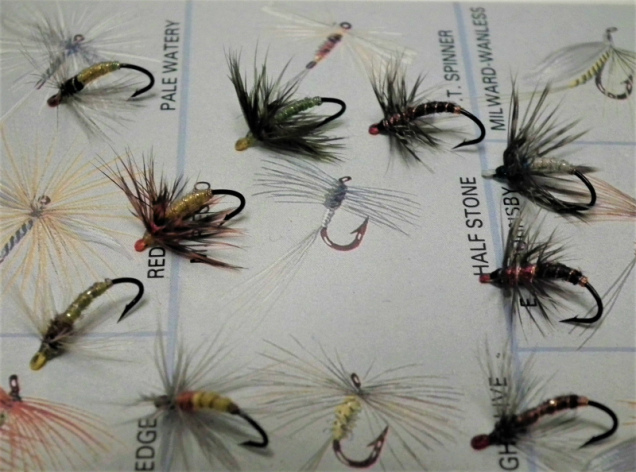 It is only half hackle that is similar
In my own head, I notice there is a difference between western flies (in general) and kebari (in general). Modern western flies, where the ambition is to imitate an insect as perfect -to our own eyes- as we can. And japanese kebari that is a suggestive tool, where simplicity and presentation shines through.
Going back in history there is this distinction/difference in western flies as well; just compare a north country wet fly to a Royal Coachman and that becomes very clear.
Again, in my own head, a north country wet/spider falls under the 'kebari'-category. Simplicity, minimalism, versatility.
There is also a kebari that uses the features of the material
This is a white peacock, but it is similar to Pearl Mylar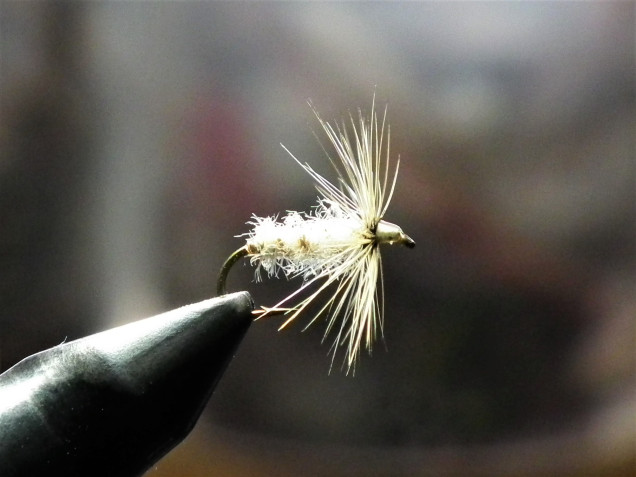 Simple and durable