I don't recall who uploaded a short video of Dr. Ishigaki's presentation at last year's TUSA Tenkara Summit. If you watched it he made brief mention of a new DVD that would be coming out in 2018, with the title 「数か、尺ものか テンカラ新戦術」.The DVD will be available later this month. It's already listed on Amazon JP.
I'm not sure of the correct translation of
数か、尺ものか テンカラ新戦術.
A few (something) New Tenkara Tactics.
The Something bit is 尺ものか, which I think means something like - a new standard of scale. Or Higher Scale to aspire too. The idea of a higher skill level, I think. Or maybe just new tactics developed by long scale of experience.
However, the important part of the title is New Tenkara Tactics. And the theme is テンカラは十 色, Tenkara is 10 Colors, Which should be a crowd pleaser on a forum of similar name.
The featured tenkara anglers in the video are Takahashi Shin-san (高橋伸さん) & Saigō Kazumi-san (西郷和巳さん) , aka Ajari. 70分 , 70 minutes. From Tsuribito.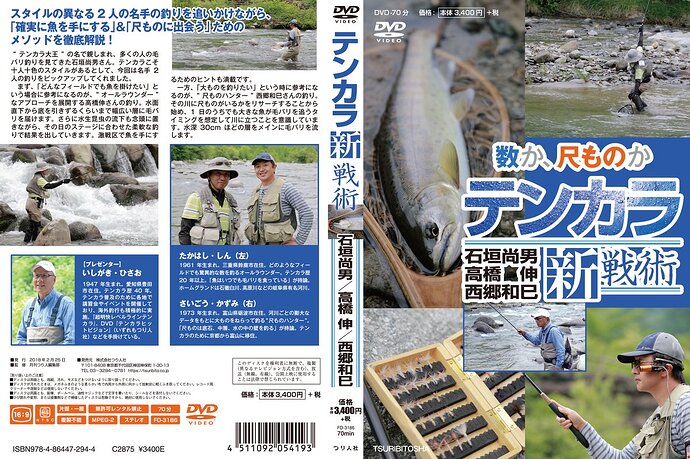 I also found a new YTC, (YouTube Channel) labeled Tenkara King (テンカラ大王). Which is Dr. Ishigaki's nickname. Right now there is only one video on the YTC, an introduction to the DVD, but maybe more will be added later.
As you can see some scenes are filmed with a drone camera, other with head worn cameras.
Amazon JP A Few New Tenkara Tactics Scale DVD
Digital Translation of Dr Ishigaki's blog post about the DVD
ISBN-10: 4864472947
ISBN-13: 978-4864472944