This weekend I read a blog post originally posted two years ago, over on the Fly Fish Food blog entitled "5 Steps to Fly Box Organization Zen". This reminded me that it's been a few years since I have gone through and purged my fly boxes and thought it was high time to do so again.
As it is, many years ago, I limited myself to a total of three at any one given time. Frankly, I don't really need more than that. Over the years I have used a variety of different fly boxes and they have made the rotations (or been lost), often based on what I like or find convenient at the time. While I haven't actually counted, with the three boxes I'm currently using I can carry between 600-800 flies at a time. Even when western FF, I wasn't one to change my fly often and even on a bad day I don't lose that many flies. Last year on one very windy day and the day I was only carrying 7x tippet, I lost 5 flies in a couple of hours and decided to end the day early.
My current boxes are a Tacky Day Box, a Tacky/Orvis collab box, and a generic, dual sided, multi-compartment box by Plano. The Plano box I have had for longer than I can remember and has served me well; although it quickly becomes disorganized. It's light weight, easy to shove in a pocket and holds a lot of flies. Over the years I have looked for it again (although not in the past 5-6 years admittedly) and again and never found it.
The Tacky Day Box was purchased when the company first got started a couple of years ago and over time I quickly came to like it. It's small, light weight, easy to see the flies, and easy to organize. It's just a little on the more expensive side of things (albeit not as much as a Wheatley - which I've also had in the past), especially when compared to the Plano. It also carries enough flies for a full day on the water.
A couple of weeks ago I purchased the Tacky/Orvis collab box. Admittedly, the three primary reasons that I purchased it were: 1. I liked the color; 2. I really like my other Tacky box; and 3. I had already been thinking about better organizing myself this year. Maybe not the best reasons to buy something, but I've wasted $35 on many more useless items in the past.
With that, I proceeded to do my purge. For me, it was helpful to not think about what to get rid of, rather I thought about what worked last year and I wanted to keep. As I went through the process it also helped me focus on what other things I want to tie and try this year. At the moment I haven't been tying a lot because I'm almost out of hooks. I've almost used all of the eyeless keiryu hooks I bought last year. Some of them I really liked and some I did not.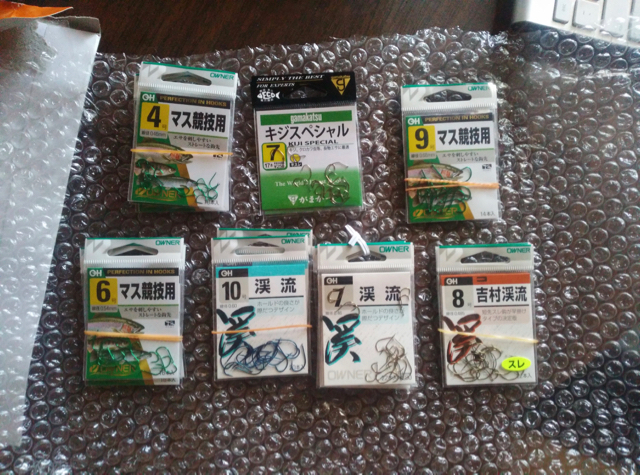 The main reason I haven't purchased any more hooks is that earlier this winter, I decided to participate in helping Joe at Firehole Outdoors by purchasing his hooks at the pre-launch event and help (along with many others) get his project running. So, I decided to not purchase any other hooks and wait for those to arrive; which I am eagerly awaiting.
I digress. Getting back to the purge. I easily pulled out 150 hooks. Do you purge your fly boxes? If so, what do you do with the flies? Do you throw them away? Do you cut off the old material and re-use them? In the past, I've thrown out any rusty hooks, but with the improved quality of hooks these days that is now a rarity for me. I've occasionally given some to friends, but at the moment I have very few friends who fly fish. More often than not, I'll spend an evening (or two or three) and cut off the old material and organize the hooks as best I can and eventually reuse them.
Yesterday, I put similar questions out on social media and got a very strong response. Donate them. In particular, donate them to Project Healing Waters. I thought that was a brilliant idea. That way the flies go to a great cause, they aren't discarded and wasted (which I wasn't going to do anyway), and I don't have to spend hours cutting off old material. It's a great idea! Here's the final result of what I purged (by the way, the Tacky/Orvis collab picture above is some of what I kept - though not all).