Met up with some tenkara and flyfishing folk to drift some flies over wild trout in NY.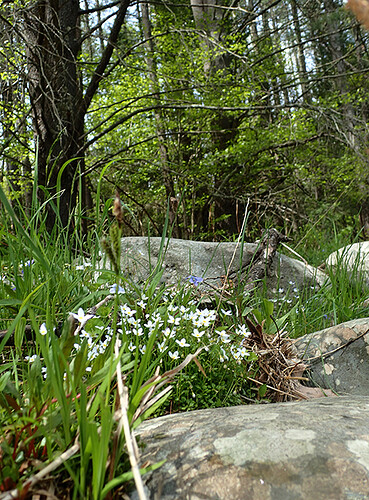 The other peeps in the group stayed a several days…camping. I only stayed one night and fished a day and a quarter. First day was beautiful. I landed one fish and dropped 5 others. Second day had a bit of rain that stalled things. I got out to fish a couple hours before heading home. Had some activity, but nothing stuck.
The gang that couldn't shoot straight…

Looks like Rob is testing out his sundial in the back…hahahaha.
I guess he doesn't like cameras…
The catskills has so much beautiful water.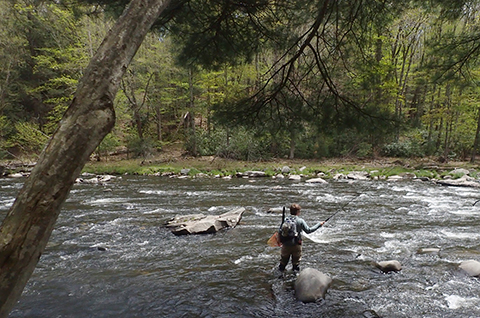 We only ran into one angler all day and he was spin casting. Can you imagine his surprise. 1.1 miles from the trail head. No one else there…and by some irony 6 anglers bushwhack and pop out in the exact spot the spin fisherman had worked his way to down river from where he started. He probably thought a family of bear was emerging from the rhododendrons.
Lots of hoove prints on the shared path. I stopped for a break and I saw a lyme delivery service creeping around on the rock I placed my sling. A couple of guys picked off several ticks. Such horrid beasts…yet in this photo it is posed like a graceful ballerina.

This brown thought it was a rainbow. It leaped 4 times…each was spectacular and a couple had to be about 3 feet into the air. I have been fishing barbless exclusively for the past year and a half. I real testimony on how a good hookset and patience can get it done. Unfortunately, my other hooksets were not as solid. my loss to land ratio was 5 to 1, which for me is unusual. I suspect that these critters where particularly feisty and the water was fast. I will have to work on that, but it seemed that others in the group found the same challenge that day. Its always comforting to have guys with more experience and skill struggle with the same challenges.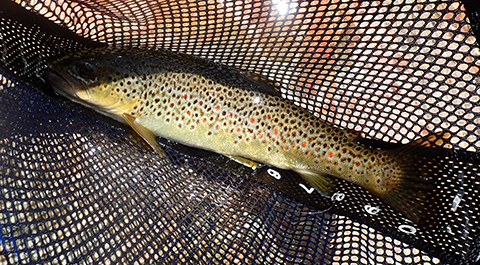 Not the biggest brown, but a treat just the same.
I wish I could fish this water more often. I should make a point of it, but I am already migrating to the salt.
A few weeks ago I broke the ice on some yellow eyed machines. Wild and fierce action for 3 hours.
These were too big for fixed line, but this year I intend to land one on my kyogi.