Slinging beads is very untenkara, but sometimes it is what is necessary to get the job done.
There are two notes that I want to discuss in this thread.
Sometimes tenkara methods just do not work or we may not have the skill to make them work.
Sometimes certain fly patterns work and sometimes they do not. Stimulant patterns vs naturalistic.
Like say. Its winter. You want to catch fish and you just drove an hour and a half to a wild trout stream…and the fish are not responding to unweighed flies. so the tenkara goes out the window…and weighed nymphing takes preference…and sometimes digging deeper unaturalistic patterns are worth a try.
Before folks protest to my untenkara comment. Please consider the attributes of the bead. There are a number of things beadhead flies are just not good at. There is nothing finesse about it or its presentation compared with a lightly weighed or unweighed fly. It is not as bouyant, nor does it act like an insect as naturally in current. It will not suspend. In all forms of fishing. I feel that suspending artificials are often key to converting fish that are not actively feeding.
I will say out of all the forms of flies I fish, the bead is the one I like the least. This is not a tenkara purist thing. They are just a pain in the ass. It finds bottom so easily and when pulled free wants to wrap around tree branches like a grappling hook. The also cast like crap on a rod light enough to cast unweighed flies. Not to mention half my tenkara tricks just do not work as gracefully with a bead. Half the time I cannot cast them with accuracy.
Fishing high water and deep winter pools, the fish are just laying low in this cold weather. Sometimes I get lucky and there may be a hatch or for some reason the fish really respond to unweighted or lightly weighed kebari. Yesterday I fished a spot they didnt seem interested at all in them…or so it seemed.
Part of it, is the distance/energy the fish will expend in winter. Often our drifts are too short to get the fly down. Water is too deep, or top current is to heavy and even an eddy cannot draw our offering deep enough fast enough. The more line you have in the water the more drag…probably pulling the fly unnaturally away from the strike zone. Sometimes you just need weight to get it in there…thus the bead.
My first pool was beautiful. Crystal clear.
I must have sent a dozen or two drifts through. Nada. I had worked the pool so hard that I am sure fish must have been aware of my presence. This is a wild brook trout stream. Eventually I gave in an put on a bead. A bead of a pattern I have been working my way out of my flybox.
this is it…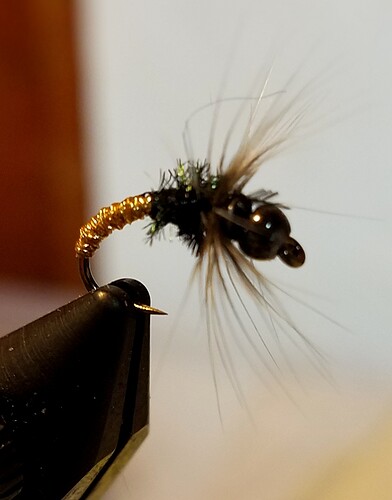 followed by this one.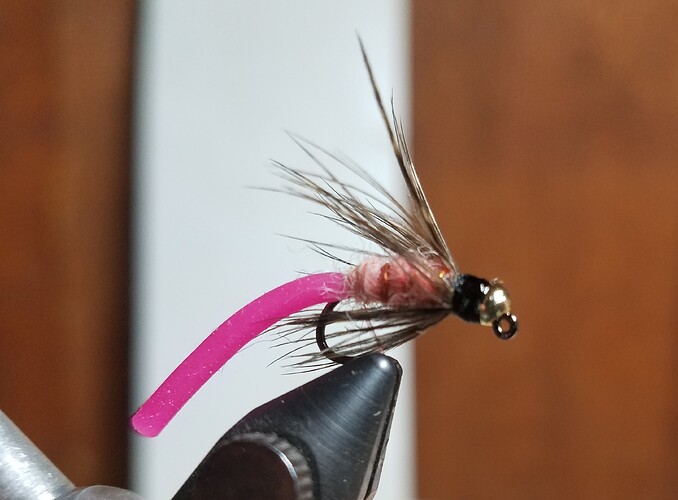 The pool came to life. A half dozen fish not only took the flies, but they also move a fair amount of distance to strike them. This gave me alot to reflect on. A seemingly void pool, suddenly a live. I was not able to land a single fish. The takes were light. I had a couple of short rides, but all the fish came off. I also tried to put an unweighed kebari on and they just did not want it. Presentation depth and speed were factors. I suspect speed may have been largely the difference, as the material patterns were identical.
I have been trying to move away from beads. Also that killer worm pattern, mostly because it seems like cheating. What is interesting. I was not able to land or hook a single fish on the worm but nearly all the fish I landed over the day were on the gold threaded bead. I tried other beads and they just did not want them including a soft hackled prince nymph.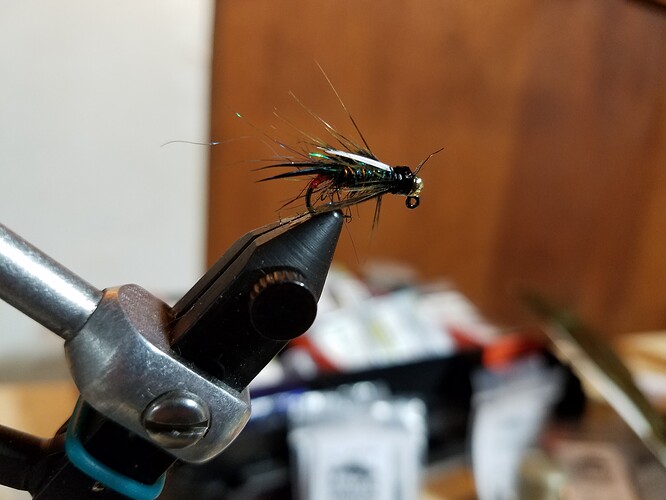 Sometimes the fish want flash to get them motivated. There must be something in those artificial colors that get them going. Sort of like a hot spot, but more extreme.
I guess the beadheaded and wormbodied flies are here to stay in my flybox, without them. I probably would have struck out in this outing. My motivations are not fish counts or size. For me its all about seeing these river dwellers up close. I will post up some pics soon. The colors are just mind blowing.
I can understand the argument on both sides for using and not using beadheads. For me, I will reserve them for those days when nothing else seem to work.