Hello everyone. As a way to say thank you to members (and lurkers) of this forum and to wish you a Happy New Year in your tenkara adventures, I am holding a giveaway. I have nine of the 10 Colors Tenkara neck gaitors/sun guard/"Buff's" still available. I am giving ALL of them away to nine lucky people and will ship them anywhere in the world.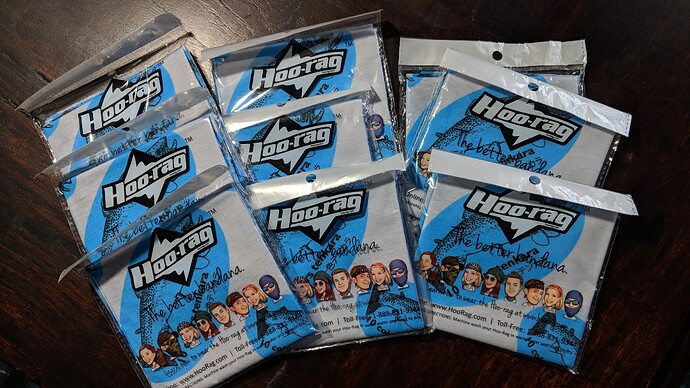 Here's what you have to do. Comment below about what you enjoyed most about fishing this past year and what you are most looking forward to doing or learning this year. Bonus for including a photo.
I am not deciding who gets these, it is the members of the forum! Make your decision by clicking the heart to show you like the comment and yes, we will let you vote for yourself. The 9 comments with the most votes will receive one. You have until next Saturday, 4th January to submit your comment and vote.
So, get to it. Besides, who doesn't like free stuff? Are you a lurker and never joined the forum? Here's your chance and you could get something free from it.
Good luck! 十人十色テンカラ
テンカラ
十人十色テンカラ
みなさん、こんにちは。このフォーラムのメンバー(と潜入者)にお礼を言い、あなたのテンカラの冒険で新年を迎えることを祈る方法として、私はプレゼントを持っています。私は9人の十人十色テンカラネックゲイター/サンガード/ "Buff's"がまだ入手可能です。私は彼ら全員を9人の幸運な人々に配り、世界中のどこにでも出荷するつもりです。
これがあなたがしなければならないことです。あなたがこの一年で釣りについて最も楽しんだこと、そしてあなたが今年行うことや学ぶことを最も楽しみにしていることについて以下にコメントしてください。写真を含めるためのボーナス。
誰がこれらを手に入れるのか私は決めていません、それはフォーラムのメンバーです!コメントを好むように心をクリックしてあなたの決断をしてください、そして、私たちはあなたにあなた自身のために投票させます。最も投票の多い9つのコメントに1つの投票があります。あなたはあなたのコメントと投票を提出する次の1月4日土曜日までです。
それで、それに着いてください。その上、誰が無料のものが好きではありませんか?あなたはlurkerであり、フォーラムに参加したことはありませんか?ここにあなたのチャンスがあります、そしてあなたはそれから何かを解放することができます。
がんばろう!
Здравствуйте все. Как способ сказать спасибо участникам (и скрытым) этого форума и пожелать вам счастливого Нового года в ваших приключениях в тенкаре, я провожу раздачу. У меня все еще есть девять из 10 цветов Тэнкара с шейным ходом / солнцезащитный козырек / "Бафф". Я отдаю ВСЕХ из них девяти счастливчикам и отправлю их в любую точку мира.
Вот что ты должен сделать. Комментарий ниже о том, что вам больше всего понравилось в рыбалке в прошлом году, и что вы больше всего с нетерпением ждете, чтобы заниматься или учиться в этом году. Бонус за включение фотографии.
Я не решаю, кто их получит, это форумчане! Примите решение, щелкнув по сердцу, чтобы показать вам понравившийся комментарий, и да, мы позволим вам проголосовать за себя. 9 комментариев с наибольшим количеством голосов получат один. Вы должны до следующей субботы, 4 января, оставить свой комментарий и проголосовать.
Итак, доберитесь до этого. Кроме того, кому не нравятся бесплатные вещи? Вы скрывались и никогда не заходили на форум? Вот ваш шанс, и вы могли бы получить что-то свободное от этого.
Удачи!
Bonjour à tous. Afin de remercier les membres (et les observateurs) de ce forum et de vous souhaiter une bonne année dans vos aventures du tenkara, je tiens un cadeau. J'ai neuf des 10 couleurs Tresses / protège-soleil / "Buff's" du Tenkara encore disponibles. Je les donne TOUS à neuf personnes chanceuses et je les expédierai partout dans le monde.
Voici ce que vous devez faire. Indiquez ci-dessous ce que vous avez aimé le plus à la pêche cette année et ce que vous avez le plus envie de faire ou d'apprendre cette année. Bonus pour inclure une photo.
Je ne décide pas qui les reçoit, ce sont les membres du forum! Prenez votre décision en cliquant sur le coeur pour vous montrer que vous aimez le commentaire et oui, nous vous laisserons voter pour vous-même. Les 9 commentaires avec le plus de votes en recevront un. Vous avez jusqu'au samedi 4 janvier prochain pour soumettre vos commentaires et voter.
Alors, allez-y. D'ailleurs, qui n'aime pas les trucs gratuits? Êtes-vous un lurker et jamais rejoint le forum? Voici votre chance et vous pourriez en obtenir quelque chose gratuitement.
Bonne chance!